I went out to lunch with a friend not long ago and had some black pepper veggies. I loved the idea that one spice really carried the theme – especially a spice with which we're already very familiar. This has some kick, but the heat doesn't last.
Serves 6

15 minutes to prepare
20 minutes to cook
Ingredients
1 red onion, chopped
5 cloves garlic , minced
3 tablespoons sesame oil
1 cup brown rice, cooked
1/2 cup vegetable broth
6 cups broccoli, chopped
1/4 box firm tofu, grilled, if desired
For the Sauce:
1 can coconut milk
1/4 cup teriyaki sauce
1/4 cup soy sauce
1 tablespoon green curry
2 tablespoons miso
1 1/2 teaspoons black pepper
2 teaspoons sesame oil
Serve Over:
1 package soba noodles, or Udon noodles
Directions
Get that grill going and toss on a slab of tofu. This keeps great, so make more since you have the grill fired up anyway. Or if you don't feel like it, skip this step. It's tasty without grilling.
When we're doing any kind of stir fry, I like to keep the onion slices fairly large.
Have you noticed we use a lot of garlic and onions in our recipes? Why? Because they're awesome, that's why!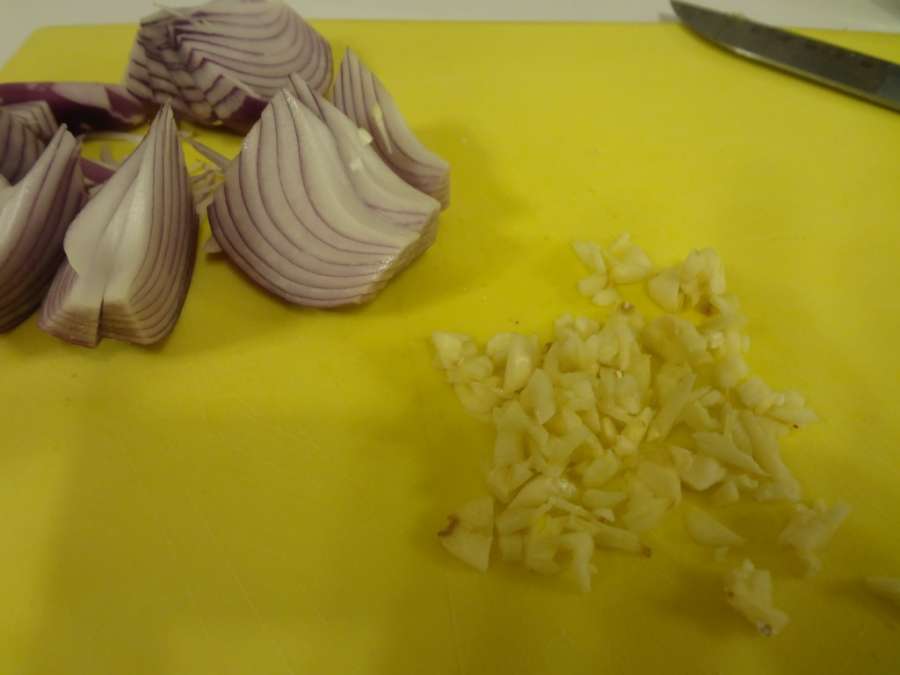 Sesame oil smells so good. You can also use peanut oil or olive oil if you don't have the sesame.
Add sesame oil to a large pan. Saute onion and garlic until soft. Can you smell that? Yum!
It may seem a little odd to add rice to a noodle dish. I added it to hold the sauce and make the meal more filling.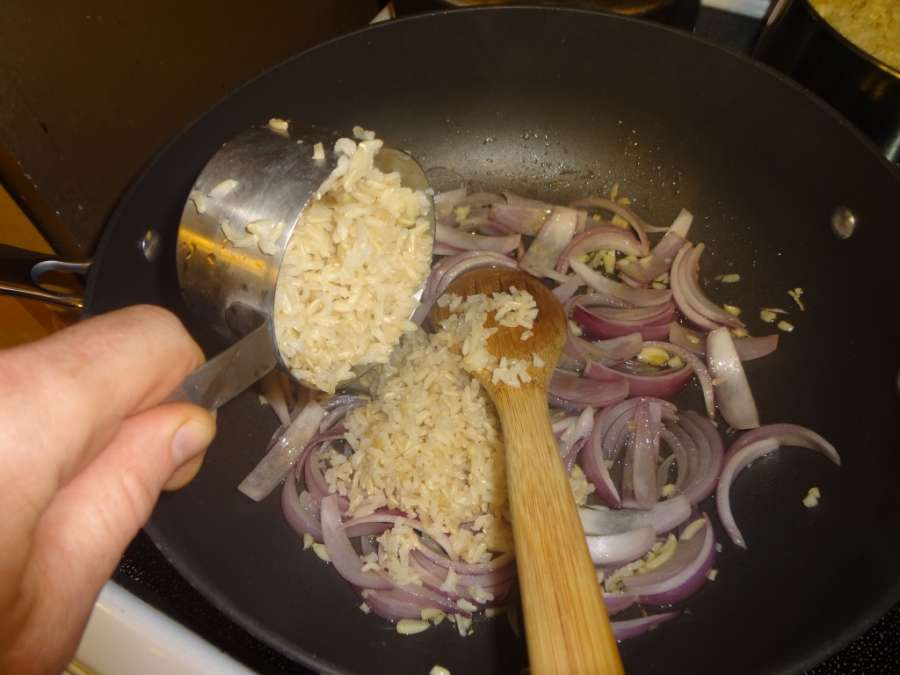 Add brown rice and vegetable broth. Put some water on to boil in prep for your noodles.
Similar to the onions, I like to keep the pieces fairly large…almost like a thin broccoli filet, if you will.
Add the broccoli. The trick here is to quickly stir over high heat. Just get the broccoli tender.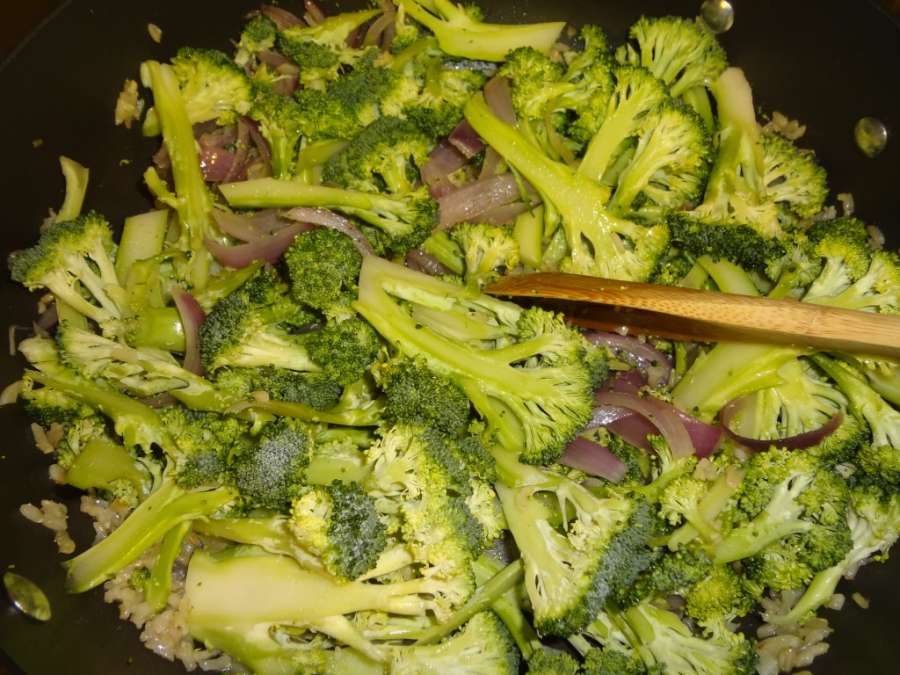 Make the Sauce:
Add the coconut milk, teriyaki sauce, soy sauce, miso, green curry, black pepper and sesame oil. Stir.
Once your tofu is nicely grilled…
Dice it up… Remember, grilling the tofu is completely optional… but you do want to chop it up at this point…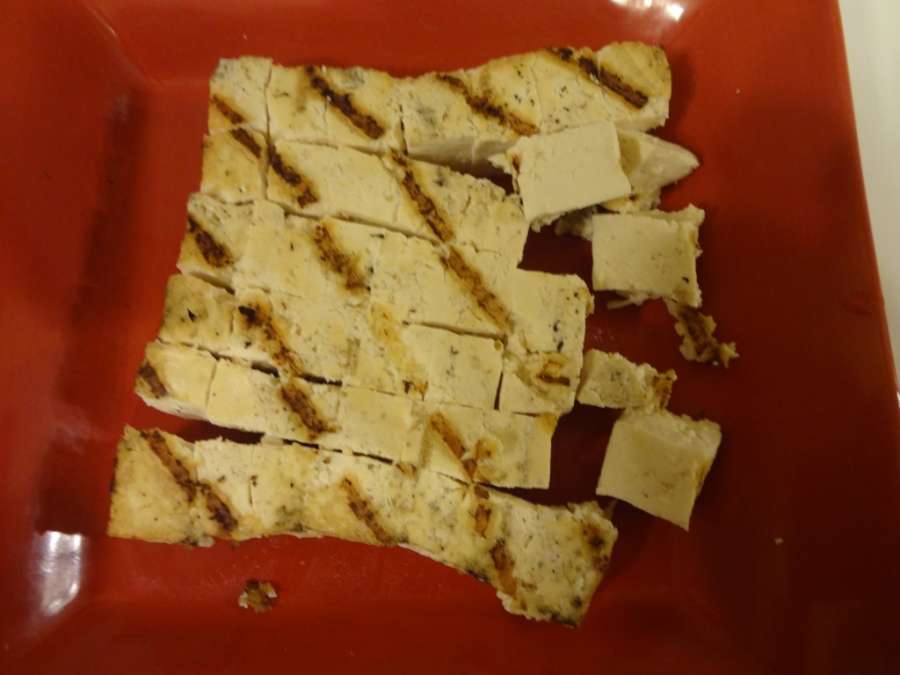 And toss it in. Pour in the sauce. Let it simmer over low heat. Cook noodles to package specifications.
Toss in your noodles while the stir fry simmers and melds all those wonderful flavors.