Okay, I'll admit it. There are times I miss chicken hot wings. But y'know…I don't REALLY miss the tendons, ligaments, nasty cartilage. I miss the vehicle for the sauce and the contrast between its spiciness and the cool of ranch dip. Finally cauliflower came to my rescue. Now I can have hot wings whenever I want – with no guilt!
Serves 4

10 minutes to prepare
45 minutes to cook
Ingredients
1 head white cauliflower, chopped into florets
1/2 cup hot sauce, like Tabasco, we like Franks wing sauce
1/2 cup vegan ranch salad dressing
Directions
Preheat your oven to 450 degrees. Cut out the heart of the cauliflower (the biggest part of the stem) but not too close to the chunky parts of the cauliflower or you'll be left with tiny pieces which are harder to dip with.
Cut your head of cauliflower into florets.
Spread them out on a cooling rack, spray the flower parts with a bit of cooking spray and put them in your preheated oven for about 45 minutes. Check earlier the first time as ovens tend to vary. We like them quite charred.
Put your hot sauce in a large bowl
Toss with hot sauce until thoroughly coated in a large bowl and these wings are ready! Couldn't be much simpler than that!
Tonight we paired ours with a big green salad.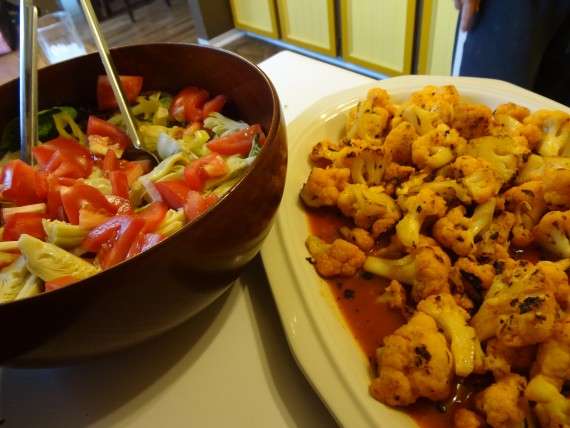 They also make a great appetizer with carrots and celery!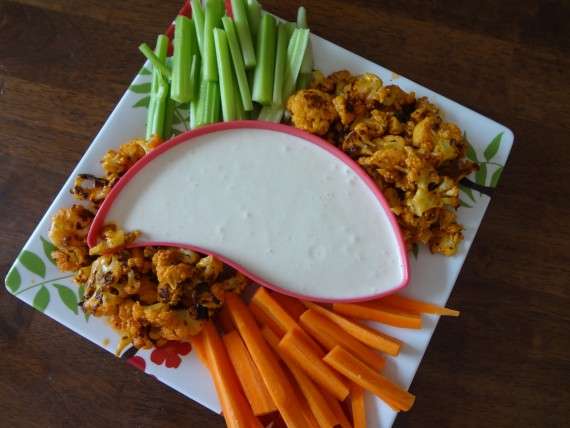 Dip the florets in vegan ranch, close your eyes and savor…mmm…I might have to make these today for lunch!
This is our original recipe but we think the oven is easier.
Alternate way to make them in skillet. Maybe while you're camping? Spray a large skillet with cooking spray.
Cook on high and really keep the florets moving.
Reduce heat (but not much) and continue to stir.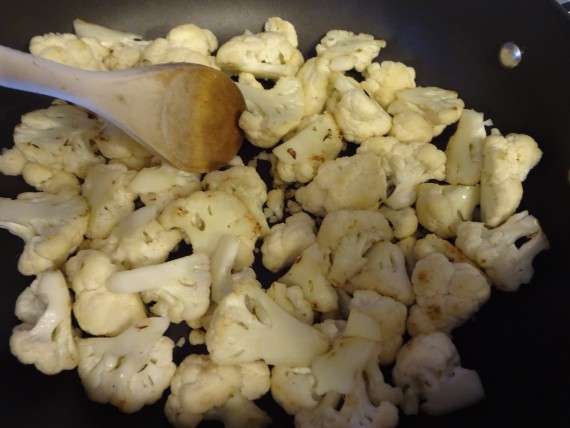 After about 10 mins, they'll start to char up. You definitely want them to get a little dark.
When you're satisfied with the amount of charring…