This is a quick and easy meal that we often turn to when we're feeling pressed for time. It's ready in a snap and everyone can make their own version so everyone can get their dinner just how they like it. It's great for a crowd too, just increase the amounts of the ingredients. You basically just chop the veggies and heat everything up and dinner is ready. The ingredients are a guide to get you started. Use what you like and what you have on hand.
Serves 4

10 minutes to prepare
10 minutes to cook
Ingredients
1/2 cup spanish rice, we like Uncle Bens Ready Rice
2 tostada shells
2 whole wheat tortillas
1/2 red onion
1 red bell pepper
1/2 can corn
1 can green chilies, (small)
2 roma tomatoes, chopped
1 can vegetarian refried beans
1 romaine heart, chopped
2 cups spinach, chopped
1 cup salsa
3/4 cup vegan sour cream
1 cup guacamole
Directions
Chop the onions and red pepper. Saute them until they start to soften.
Add your can of chopped green chilies.
Add 1/2 can of corn and heat through.
Heat up your refried beans.
Chop the tomatoes.
And the romaine lettuce.
If you are making burritos with tortillas, they are really tasty when heated in the steamer. If you don't have a steamer you can microwave them or heat them in a skillet.
We like to include salsa, vegan sour cream, guacamole and tortilla chips with our buffet.
Stella got a little unconventional and decided to make hers in rice paper wrappers. She loved it!
Connie likes tostadas.
I usually opt to make a taco salad. My taco salad with guacamole on the side.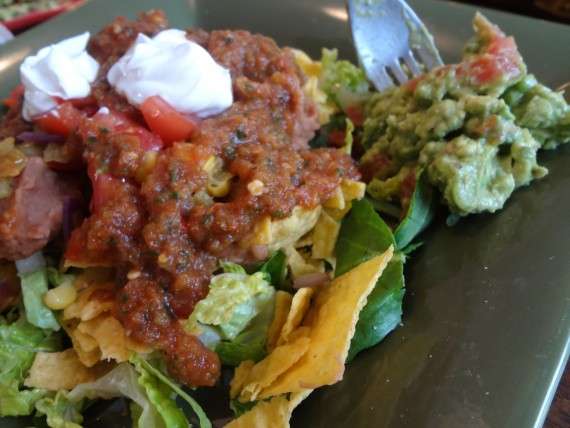 And Jeff is going for a burrito.
It's fun to let everyone do their own thing and put their own twist. Endless possibilities with the Mexican buffet.
I used to think a taco salad wouldn't be a taco salad without cheese but actually I don't miss it a bit. It was something I ate a LOT of when I first went vegan and hadn't found vegan cheese yet.
Do you have an ingredient we didn't include that you always include?