Although I really dig our "
Mmm Burger
", this burger recipe is darn good too and contains brown rice instead of quinoa.
Serves 8

15 minutes to prepare
45 minutes to cook
Ingredients
1 1/2 cups smoked sun dried tomatoes
2 1/2 tablespoons chia seeds, pulverized
1/4 cup garlic , minced
1 can black beans, drained
1 can cannellini, kidney beans (or great northern beans), drained
1 1/2 cups brown rice, cooked
1 cup walnut, chopped
2 teaspoons liquid smoke
1 tablespoon coconut oil, (or olive or cooking spray)
Directions
Pull out 1/2 cup of the sun-dried tomatoes and toss in a bowl with the beans, walnuts, garlic, and liquid smoke.
Food process the remaining cup of sun-dried tomatoes until it looks like…well…like little bits of red meat!
Pulverize the chia seeds. You can use a coffee grinder.
Add the processed sun-drieds and chia to the bowl and hand mash.
Toss in the rice.
Hand mash and form into patties.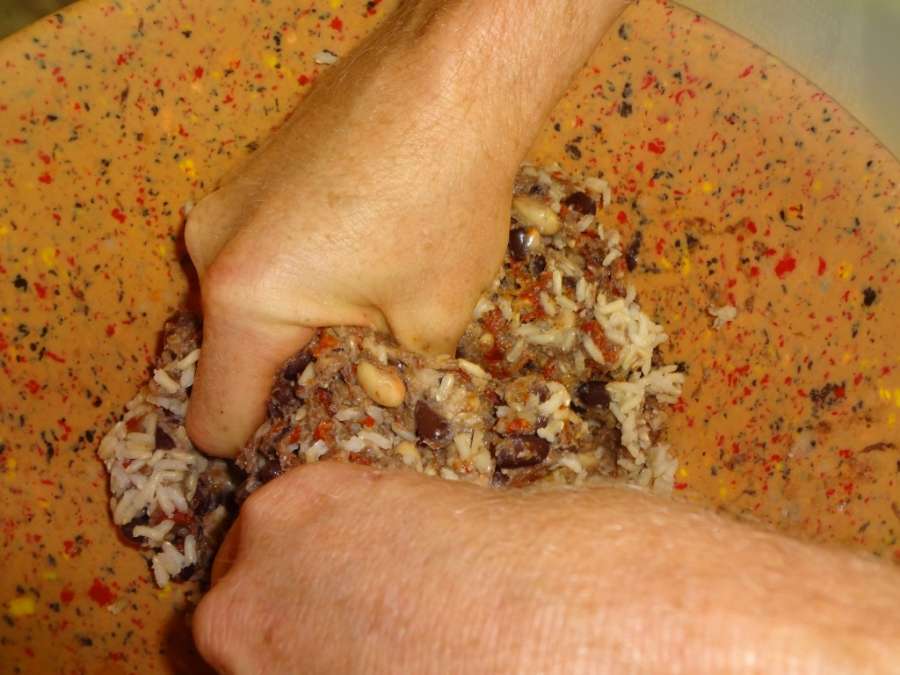 Fry and sear in coconut oil – about 5 minutes per side.
Serve with your favorite burger toppings and some vegan potatoes au gratin or homemade fries – yum!