Years ago…geez, like 16 years ago…our friend Erika made a vegetarian Mexican lasagna. Karen and I both remember it being super tasty. We thought we'd take a stab at making a vegan Mexican lasagna. Another recipe the whole family ate together! Hooray!
Serves 12

40 minutes to prepare
45 minutes to cook
Ingredients
1 box whole wheat lasagna noodles
1 red bell pepper
1/2 red onion
1 can green enchilada sauce, 12 oz
1 can Rotel (original)
1 can corn
1 can black beans, drained and rinsed
1 cup spinach, chopped
1 can vegetarian refried beans
1 cup fire roasted green chilies
3/4 cup vegan pepperjack style shreds
Directions
Preheat your oven to 400 degrees. Cook lasagna noodles according to package instructions.
Chop your red pepper.
And onions.
Coat the bottom of your 13 x 9 baking pan with enchilada sauce.
Saute your onions and red peppers…
until soft.
Measure 1 cup of spinach.
And chop.
Drain and rinse your can of black beans.
When the lasagna noodles are finished cooking, lay 3 across the bottom of the pan.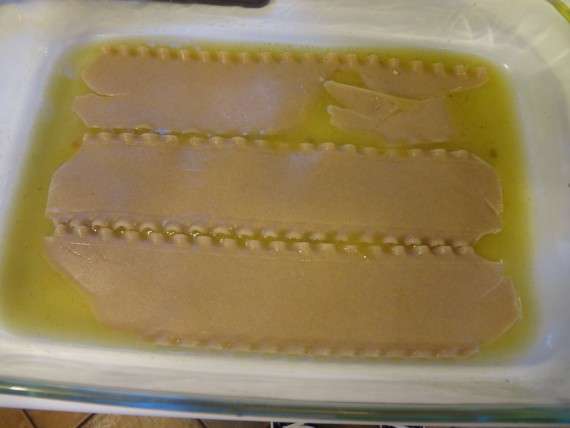 Put dollops of refried beans across the noodles.
Layer your onions and peppers on top.
Sprinkle with Daiya pepper jack cheese.
Pour about a third of the enchilada sauce over the cheese. Save two thirds because you will have two more layers of enchilada sauce.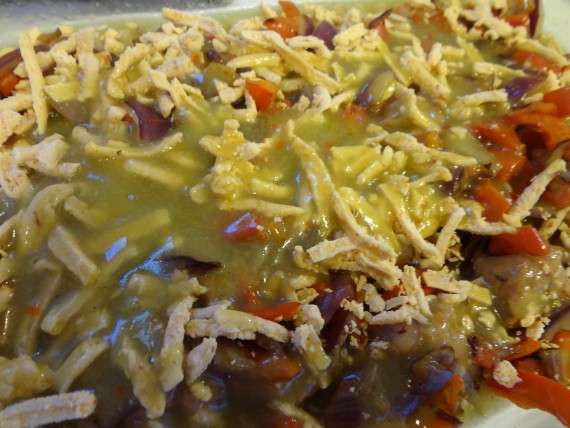 Add three more lasagna noodles and then layer your can of black beans of top.
Next layer your can of corn.
Another layer of Daiya pepper jack cheese.
Then your can of Rotel original.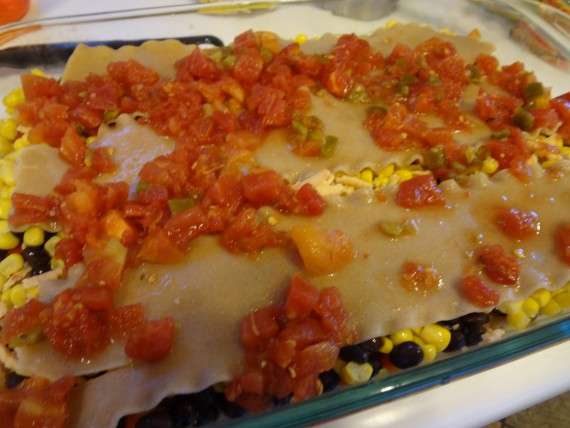 Layer 1 cup of green chilies.
Top with your 1 cup of chopped spinach.
Add a little more Daiya pepper jack cheese.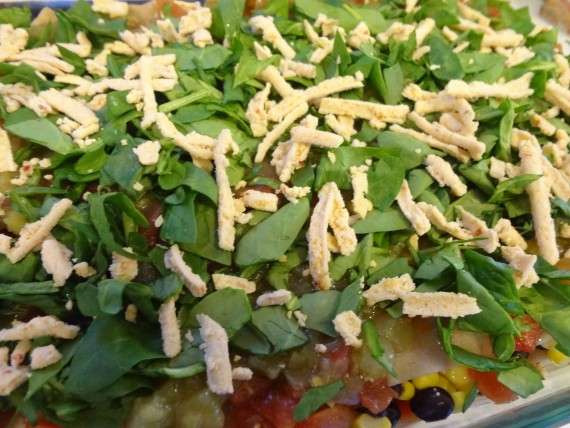 Layer another 1/3 of your enchilada sauce.
Top with 3 more lasagna noodles and then pour the rest of your enchilada sauce on top (not pictured).
Cover with foil and bake for 45 minutes or until heated through and bubbly.
Adding a layer of enchilada sauce to the top layer of noodles will keep them from curling.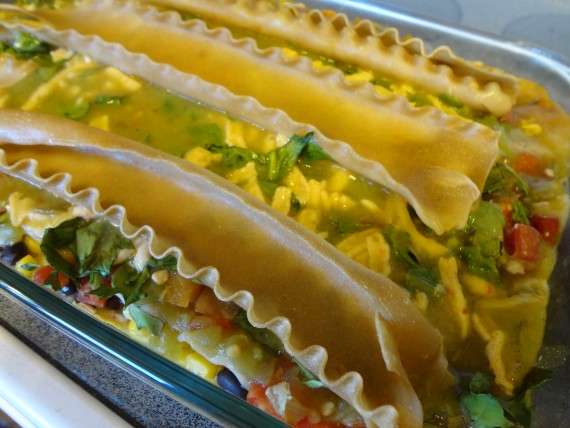 Yum!
Serve with vegan sour cream and chips and salsa, if desired. Enjoy!