We love spring rolls but when they are fried, they don't settle well in our stomachs. This version is baked on a rack over a cookie sheet so they get crunchy and crisp without being fried. We used fillo dough instead of egg roll wrappers to make them completely vegan. You do have to think ahead a bit on this one and take your fillo dough out of the freezer so it's thawed by the time you want to use it.
Serves 5

15 minutes to prepare
30 minutes to cook
Ingredients
2 tablespoons olive oil, or cooking spray
3 cloves garlic , minced
4 green onions, sliced
3 celery ribs, chopped (include leafy tops)
3 carrots, medium shredded/chopped
1/2 head cabbage, shredded or one package of coleslaw mix
1 slice ginger, about an inch of root, grated
1 box Filo dough
Directions
Make sure your Filo dough is thawed. Preheat oven to 375 degrees.
Chop your veggies.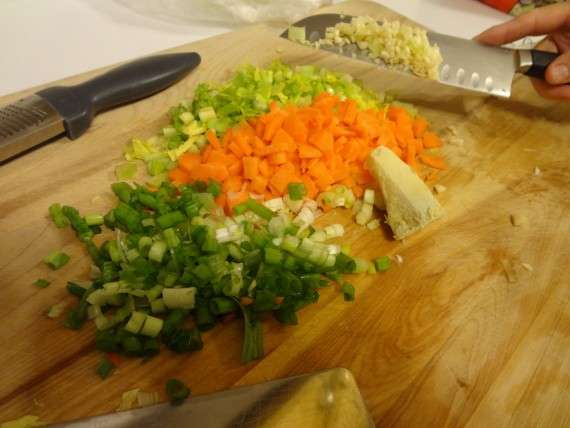 This pre-chopped package of cabbage makes this a really quick meal.
Heat your olive oil and add the garlic, onions, carrots and celery and saute until softened.
Fresh ginger… smells SO good.
Add the remaining ingredients, except the fillo dough of course!
Salt…
and pepper to taste.
Continue cooking until soft, about 5 minutes. While your veggies are cooking….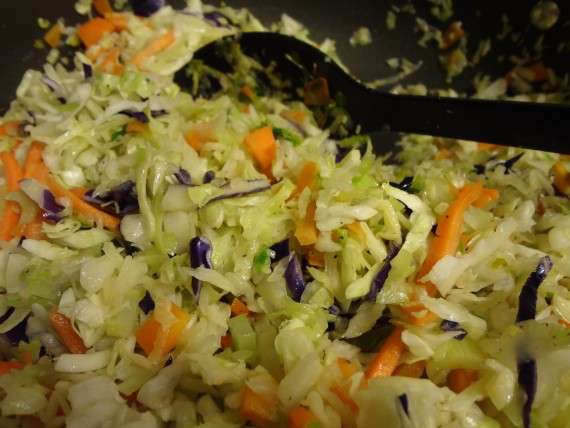 Lay your fillo dough out and cut squares about 8 inches by 8 inches.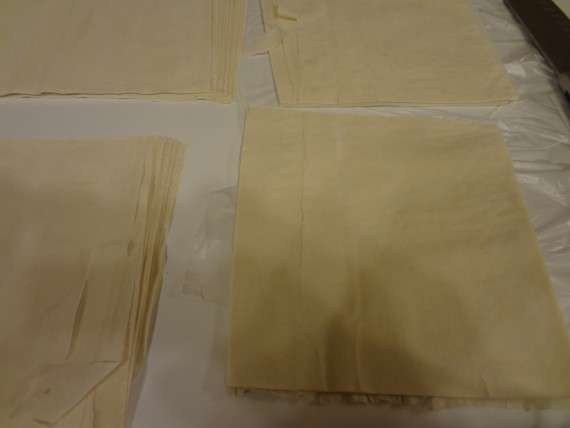 When your veggies are done, remove them from the heat and place about 1/4 cup of veggies from corner to corner on 3 sheets of fillo dough.
Roll one corner over the middle and then fold in the sides.
Roll the last corner over the top. Wet with a few drops of water if the corner isn't sticking.
Place on a cooling rack, above a cookie sheet so heat can circulate around all sides.
Bake at 375 degrees for 25 minutes.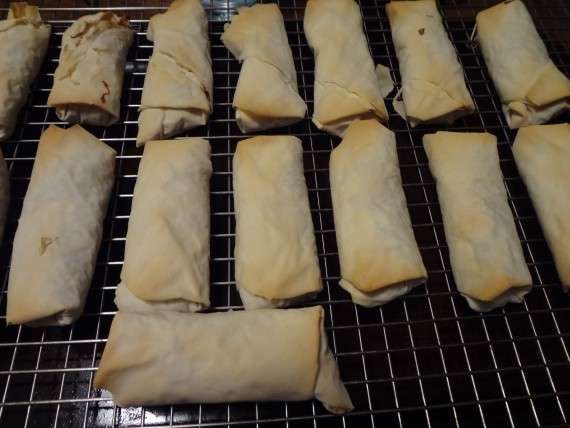 Serve with dipping sauce:
Soy sauce, hoisin sauce, sweet and sour sauce all mixed together (or kept separate) with a few drops of hot sauce if you want.