Our good friends, Katie and Eran have birthdays two days apart and we always celebrate them together. This year, Katie said she wanted a Black Forest Cake. I don't think I'd ever had one so I searched around to find images and existing recipes. I wanted to make a vegan version. There are lots of variations out there to this cake but it was easy to make it vegan.
I started with our favorite Crazy Chocolate Cake recipe, some pre-made vegan whipped cream, canned cherry pie filling and vegan chocolate chips. It was a hit and went together quickly.
Serves 12

30 minutes to prepare
28 minutes to cook
Ingredients
3 cups flour, sifted
6 tablespoons cocoa powder
2 cups sugar
2 teaspoons baking soda
1 teaspoon salt
2 teaspoons white vinegar
2 teaspoons vanilla extract
10 tablespoons canola oil
2 cups water
1 can cherry pie filling, 21 oz can
1 can soy whipped cream, 7 oz can
3 tablespoons cherry brandy, if desired
1/3 cup vegan chocolate chips, to garnish, if desired
1 jar Maraschino cherries, for garnish
Directions
Preheat oven to 350 degrees.
I used to spring form pans for this recipe, one 8 inch and one 9 inch. Trace the bottoms on parchment paper.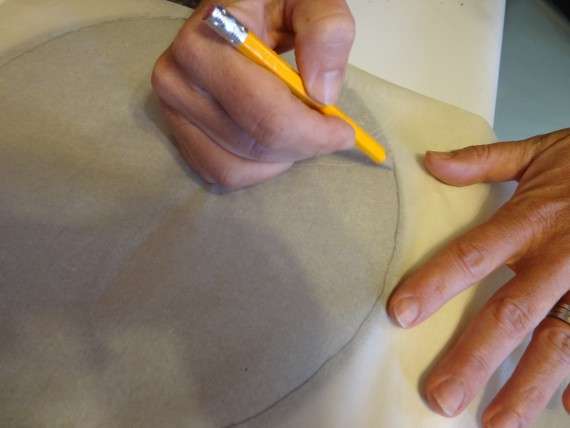 And then cut the parchment to fit in the bottom of each pan.
Grease your pan bottoms.
And flour them.
Then set the parchment paper in the bottom. Put 3 cups sifted flour, 6 T cocoa powder, 2 cups sugar, 2 t baking soda and 1 t salt your mixing bowl. Then add 2 t white vinegar, 2 t vanilla, 10 T salad oil (we used canola) and 2 cups water. Mix until smooth.
Divide your batter between the two pans so they are approximately the same depth.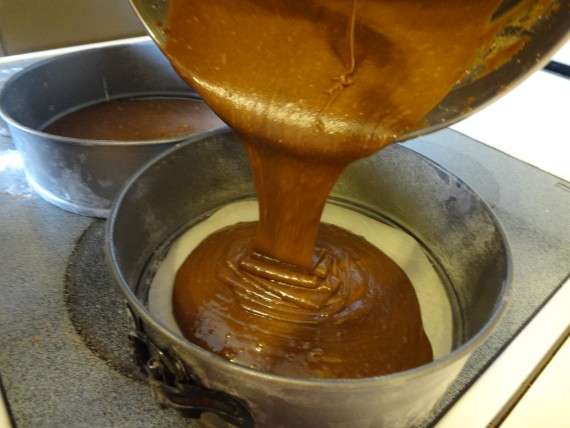 Bake for 25-28 minutes. When a toothpick comes out clean, it's done. Run a knife around the edges. Let cakes cool completely.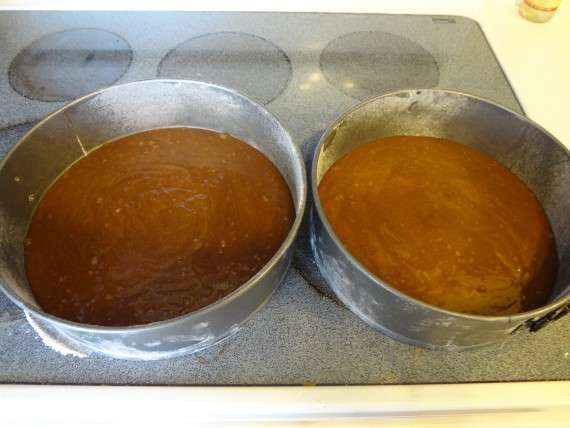 When you are ready to assemble the cake, turn your cake over so the bottom of the pan is on top. Then you can easily remove the pan and parchment paper. Pour or brush some cherry brandy over the top.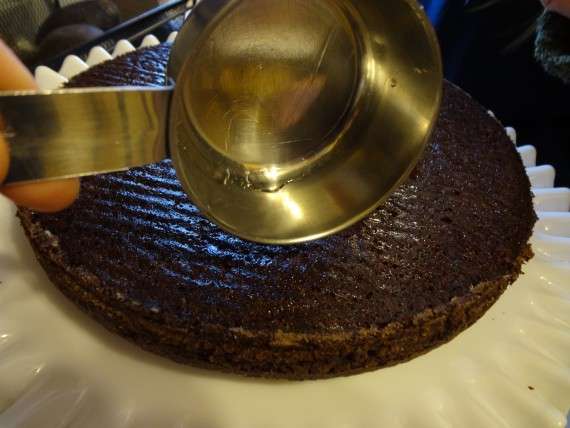 Add about half of your cherry pie filling to the middle of the cake. Our top was slightly smaller so we stayed about two inches away from the edge.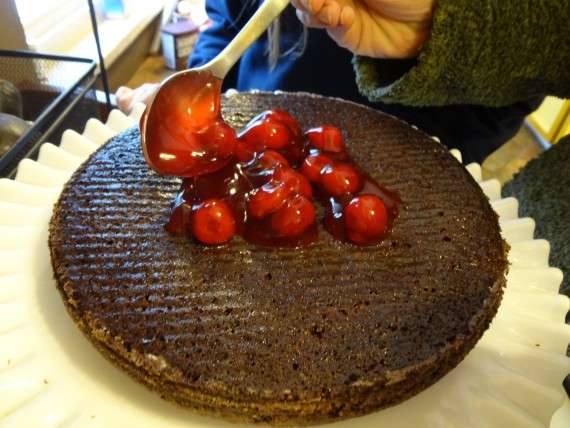 Squirt some whipped cream over the cherries.
Place your next layer upside down on top of the cherries and whipped cream. Remove the pan bottom.
Remove the parchment paper.
Put the rest of the cherries in the middle of the top cake.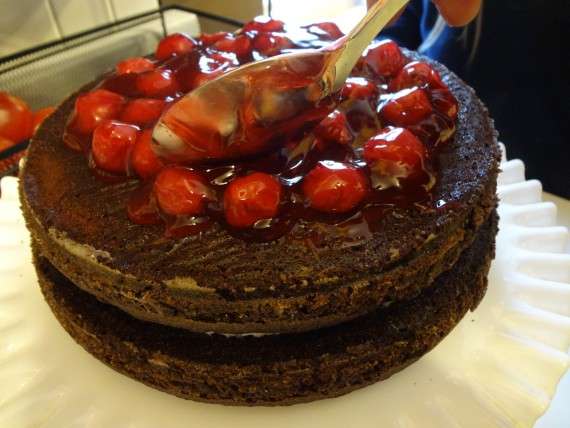 Put the rest of the whipped cream on the edge, in the middle of the top of the cake and between the two layers.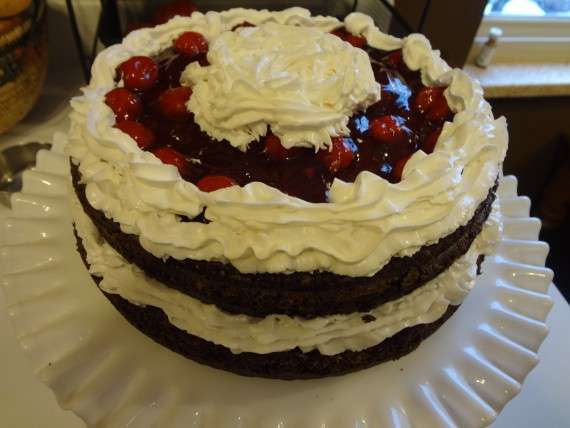 Garnish with Maraschino cherries.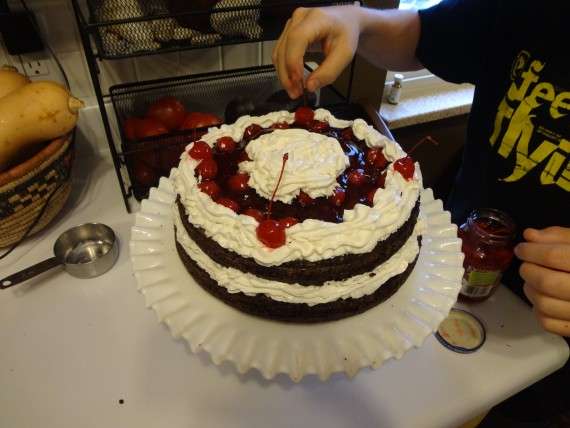 We like the ones with stems!
Sprinkle chocolate chips around the top and stick a few on the side.
This really does make a pretty cake! I assembled it right before we served it because the soy whipped cream seems to sag pretty quickly. I think it would be ok in the fridge for a little while but I recommend making it as close to the time you are going to serve it as possible.
Plate licking good! This recipe is Alice approved!