Nothing beats chili on a blustery day. Ours has a little kick…sometimes we tone it down for the kids…sometimes we don't. The bulghur is the secret ingredient. It makes it thick and hearty and I promise you won't miss the meat!
Serves 6

20 minutes to prepare
15 minutes to cook
Ingredients
1 can black beans
1 can kidney beans
1 can chili beans
1/2 cup green chilies, (6 whole roasted green chilies), chopped
1 can corn
1 can fire roasted tomatoes
1 can Rotel (original), tomatoes
1 teaspoon garlic powder
1 tablespoon chili powder
1 teaspoon onion powder
1/2 tablespoon cumin
1/4 cup bulghur
Directions
Boil 1 cup of water. Add to 1/2 cup of uncooked bulghur in a bowl. Toss a dishtowel over it. Let it sit for 20 minutes or so (until the water has been absorbed).
Food process the fire roasted tomatoes briefly if you or your children don't like the big chunks.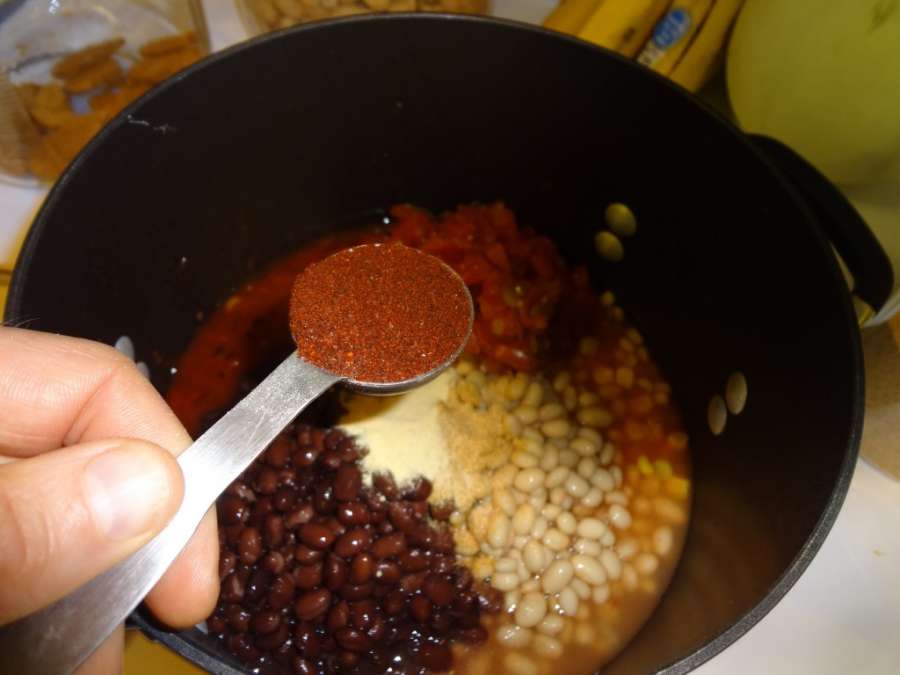 If you use whole green chilies, food process them briefly.
Throw all the ingredients in a pot on medium/high until warm. Serve with vegan sour cream and a few corn chips or cornbread. Done. How easy was that!?!?
Have leftovers? Here is a quick and delicious lunch idea:
Start with a bed of spinach or lettuce, add some ripped up corn tortillas, top with leftover chili and some sliced avocado. Delicious!