When I went vegan, ice cream was the hardest thing for me to give up. I know there is vegan ice cream available and I love that too but mentally, it was harder for me than cheese or anything else. I know most vegans say the hardest thing was cheese. I also think it's a rip off that vegan ice cream is so much more expensive than regular ice cream. A pint of vegan ice cream doesn't cost much less than a half gallon of regular ice cream. Anyhow, I wish I had discovered this brilliant way to make ice cream or "milk shakes" way back then. It's super simple with only 3 ingredients. You can make it up in less than 5 minutes and it satisfies. We take our bananas that are getting too ripe and chop them into about 1 inch pieces, put them in freezer bags and pop them in the freezer. If you don't have any frozen bananas, use regular but add ice.
Serves 1

5 minutes to prepare
Ingredients
2 bananas, frozen or fresh with ice
1 tablespoon non-dairy milk, approx. to reach desired consistency
1 tablespoon cocoa powder, optional
Directions
Gather up your ingredients.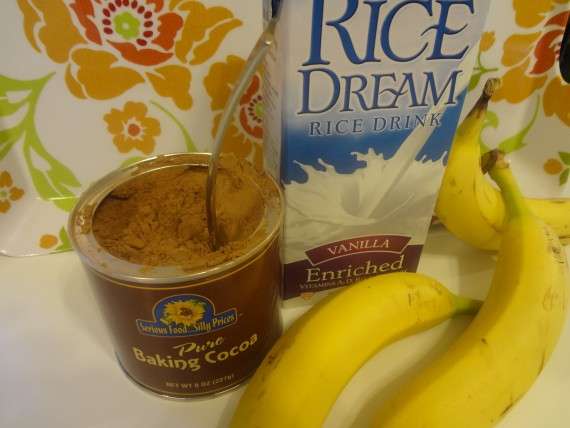 Put everything into your blender or food processor.
Blend away! Add more non dairy milk as needed to reach desired consistency.
This is seriously good… So much healthier than ice cream. When you eat this, your cravings for ice cream go way down, but when you have one, this will satisfy!