This is a versatile recipe and you should use whatever ingredients you like – this is what we had on hand and thought sounded yummy. We took this to a party with some friends who have 4 kids. It feeds a lot of people and is great leftover. It's served cold, so taking it to others' homes is a breeze. Served with some cold Mexican beer in the summertime…mmm, can't be beat.
Serves 12

20 minutes to prepare
Ingredients
2 cans vegetarian refried beans
1 can black beans, rinsed and drained
1 can corn, drained
1/2 teaspoon cumin
1/2 teaspoon chili powder
1/2 teaspoon garlic powder
1/2 teaspoon onion powder
2 cans green chilies, chopped
1 can Rotel (original), drained
1/2 cup vegan sour cream
1/2 cup salsa
1 romaine heart, shredded
3 green onions, chopped
2 roma tomatoes, diced
Directions
Spread one can of your refried beans in a 13 x 9 in baking dish.
Mix your spices (pictures show a "double batch" being made – I wanted some leftover for another recipe – the ingredients listed are for a single batch) 1/2 t cumin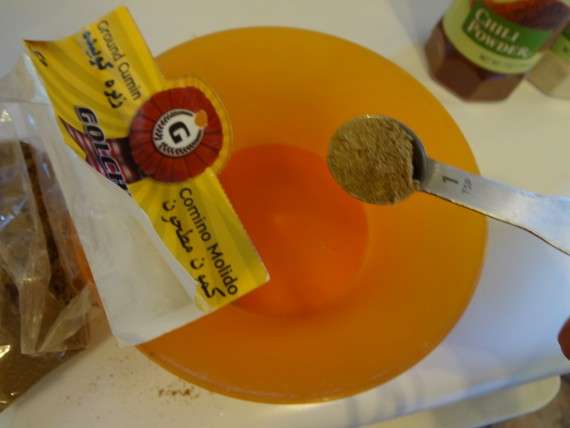 1/2 t chili powder
1/2 t onion powder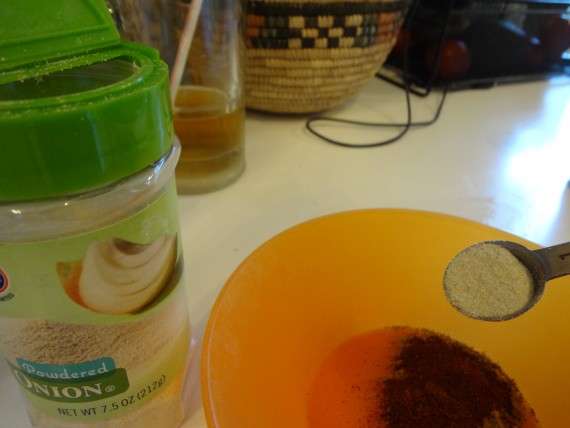 1/2 t garlic powder
salt to taste, if desired
Drain and rinse your can of black beans.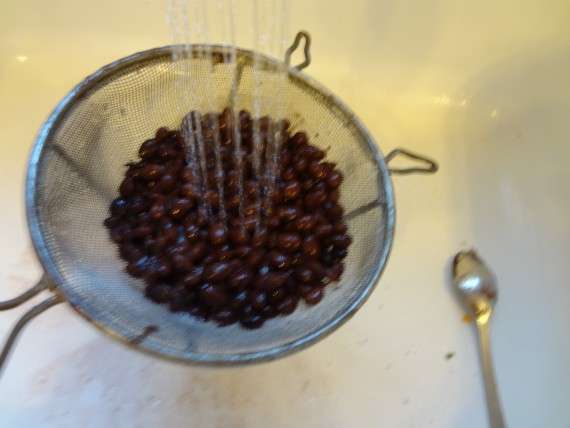 Sprinkle them on top.
Drain your can of corn.
And sprinkle it evenly on top.
Add your seasonings, sprinkling evenly.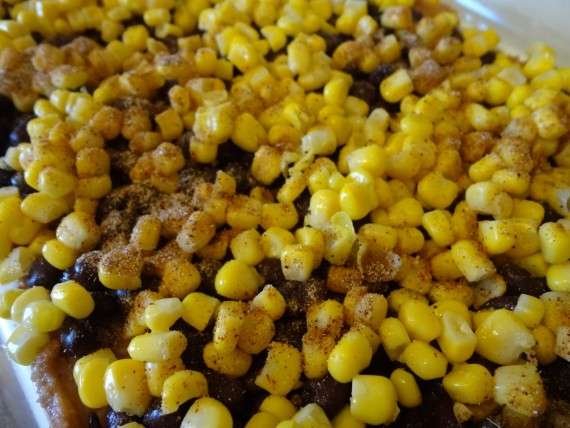 Next layer is your two small cans of green chilies.
Drain your can of Rotel.
And spread evenly as the next layer.
Next is your second can of refried beans. Place dollops around your dish.
Next spread your vegan sour cream.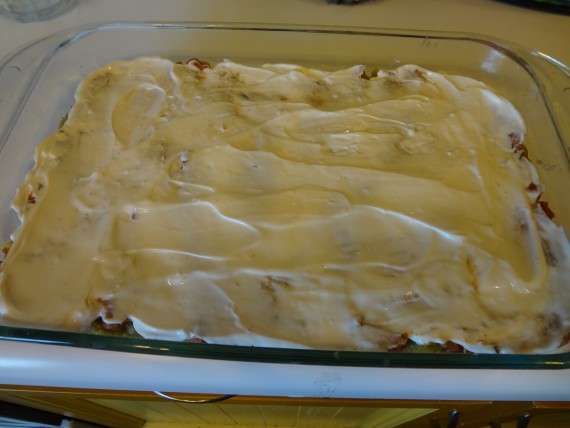 Add a layer of your favorite salsa – we used green salsa this time.
Next is your layer of shredded romaine.
Followed by your 3 chopped green onions.
And last but certainly not least… the 2 diced roma tomatoes.
Serve with your favorite corn chips and have the gang dig in.