This tastes like fall. Really different from anything else. If you're tired of the same old pasta sauce, give this one a try. It's quick to make and so good.
Serves 6

20 minutes to prepare
15 minutes to cook
Ingredients
For the Cashew Cheeze
3/4 cup raw cashews, pre-soaked in water, drained
1 clove garlic , large
3/4 tablespoon lemon juice
And the Rest for the Sauce
1 red onion, chopped
2 cloves garlic , minced
1 can pumpkin (canned)
1/4 cup parsley
1/4 cup vegan sour cream
1/4 cup almond milk, (unsweetened)
1/4 cup nutritional yeast
1 tablespoon olive oil
1 salt, and pepper
Pasta
1 box whole wheat spaghetti, (or your favorite pasta)
Directions
Make your
cashew cheeze
! After your raw cashews have soaked for 15 minutes, drain and toss into a food processor or blender. Add garlic and lemon juice. Add salt and pepper to taste. Blend until sooth.
Then, just gather all your ingredients…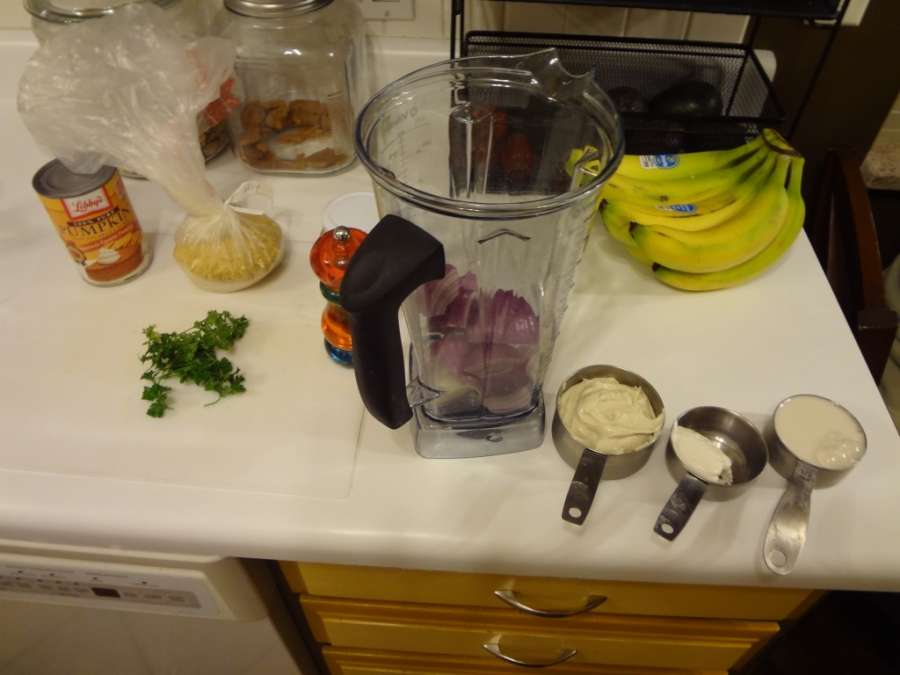 And toss them in the blender…
Process until smooth and hot. If you don't have a high powered blender, you can also just process until smooth, transfer to a pot and heat over medium heat, stirring frequently.
Cook pasta as instructed on package.
Serve sauce over the pasta and maybe add a side salad!