Happy Belated St Patrick's Day! Well, we didn't have corned beef to celebrate but we are having cabbage. We served it up with some mashed potatoes and steamed asparagus to make it a meal. Delicious! You can also substitute thinly sliced brussel sprouts for the cabbage if you're feeling feisty and it's not a day where you must eat cabbage!
Serves 4

10 minutes to prepare
10 minutes to cook
Ingredients
1/2 head cabbage, sliced thin
1/4 red onion, large diced
2 cloves garlic , minced
2 tablespoons olive oil
1 dash celery seed, (optional)
1 tablespoon vegetable broth
Directions
Thinly slice your cabbage and chop into bite sized pieces.
Chop your onion.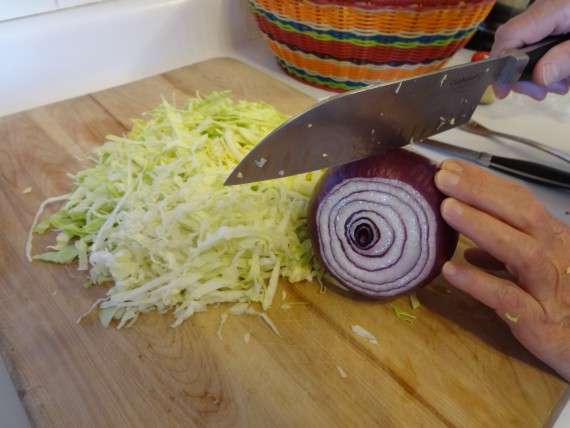 Add 2 T olive oil and your cabbage and onion to a large pan. Cook until just starting to soften.
Add cabbage and cook about 5 more minutes. Stirring frequently.
Add a dash of celery seeds and your splash of vegetable broth. Salt and pepper if desired (not included in nutritional information),
You can adjust your cooking time based on how soft you like your veggies.
We hope you all had a fabulous St. Patrick's Day and didn't get pinched!