We've been making lots of banana bread around here lately. This is a great recipe because you mix it all in one bowl, pour it into your loaf pans and you're done. Only one dish to wash! We love it so much that we make two loaves at once. Often, the first loaf is gone as soon as it's cooled enough to eat. The kids love this for breakfast or a snack. It's yummy all by itself or you can spread some vegan butter or cream cheese on it. You want to do your best to let it cool before you cut into it or the insides will look mushy. It still tastes great though.
Serves 12

10 minutes to prepare
60 minutes to cook
Ingredients
Wet Ingredients
3 teaspoons Ener-G egg replacer, mixed with 4 Tblsp water
1/2 cup vegan margarine
1/2 cup applesauce
2 teaspoons vanilla extract
5 bananas, large very ripe
Dry Ingredients
3 1/2 cups whole wheat pastry flour
1 cup brown sugar, (not packed ti
1/3 cup white sugar
2 teaspoons baking powder
1/2 teaspoon baking soda
1/2 teaspoon salt
Directions
Preheat oven to 350 degrees.
Mix egg replacer and water together and then
put all your wet ingredients in a mixing bowl.
And mix thoroughly.
Add all your dry ingredients on top of the wet ingredients.
Beat on low. It looks very dry at first but keep mixing.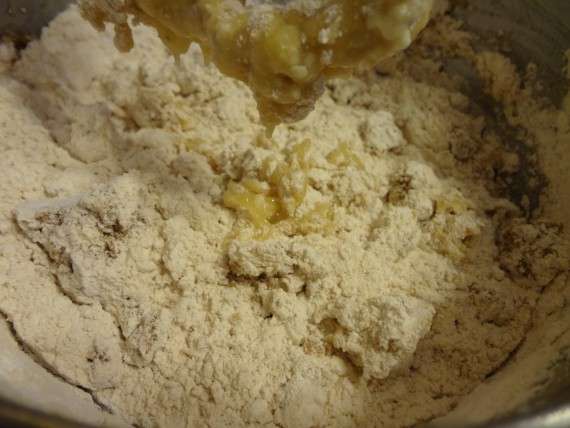 Prepare your pans. I like to just spray them with cooking spray.
This is what it looks like when it's mixed completely.
Pour half of the batter in one pan and the rest in the other.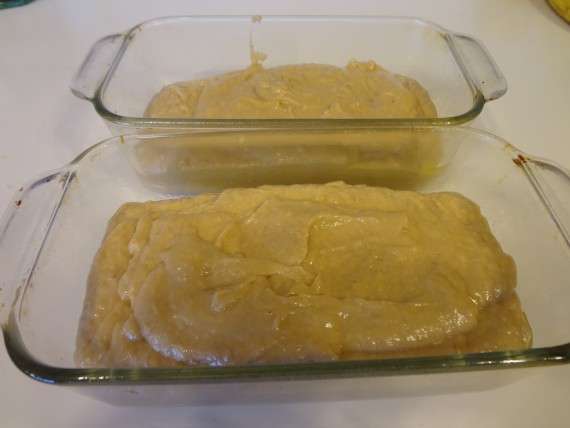 Bake for one hour. Test by inserting a toothpick and seeing if it comes out clean. When it's clean, the bread is done.
Place the pans on a cooling rack for about 5 minutes. After 5 minutes, turn the loaves out of the pans and on the cooling rack. Cool completely.
This recipe brings me back to my childhood. I remember whenever we had bananas that were old, my Mom would leave a note saying, "Someone make banana bread!" Yum! Do you have a childhood recipe you aren't sure how to make vegan?