What's better than a warm chocolate chip cookie and a tall glass of non dairy milk? Not much. Cooper wanted to try something different from our standard chocolate chocolate chip cookies that we've been making for years. He decided to take the classic recipe off the back of the Ghirardelli chocolate chips, veganize it and make it a bit more healthy with less butter and sugar. He also used whole wheat pastry flour. They were delicious!
Serves 12

10 minutes to prepare
11 minutes to cook
Ingredients
2 1/4 cups whole wheat pastry flour
1 teaspoon baking soda
1/2 tsp salt
1/2 cup vegan margarine
1/2 cup applesauce
2/3 cup sugar
2/3 cup brown sugar, packed
2 teaspoons vanilla extract
3 teaspoons Ener-G egg replacer, mixed with 4 tablespoons water
2 cups vegan chocolate chips
Directions
You can see the original recipe below. Pretty much any baked item will be better/healthier by substituting whole wheat flour for white flour, cutting the amount of margarine or butter in half and using unsweetened applesauce, reducing any sugar (white or brown or both) from 3/4 cup to 2/3 cup.
Preheat oven to 375 degrees.
Add your 2 1/4 cups whole wheat pastry flour,
1 t baking soda
1/2 t salt
1/2 cup of applesauce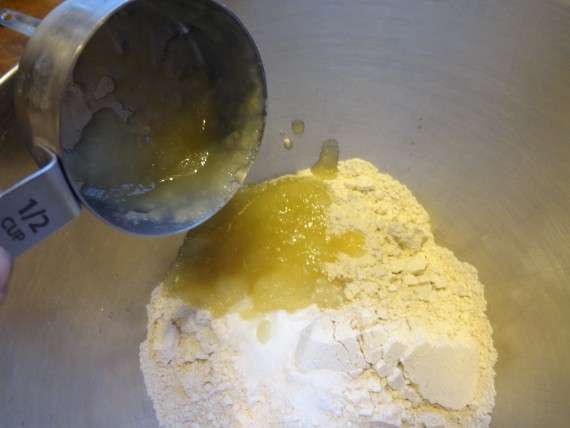 1 stick (1/2 cup) non dairy margarine. Note: picture shows two sticks but we pulled one out. Glad I walked in the kitchen at that exact moment! :)
2/3 cup sugar
2/3 cup brown sugar
2 t vanilla extract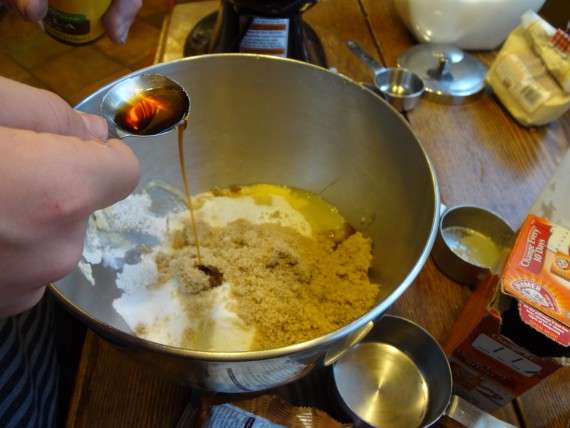 2 egg replacer eggs to a mixing bowl and mix well.
Add 2 cups semi-sweet chocolate chips and stir.
Drop by rounded teaspoons on an ungreased cookie sheet.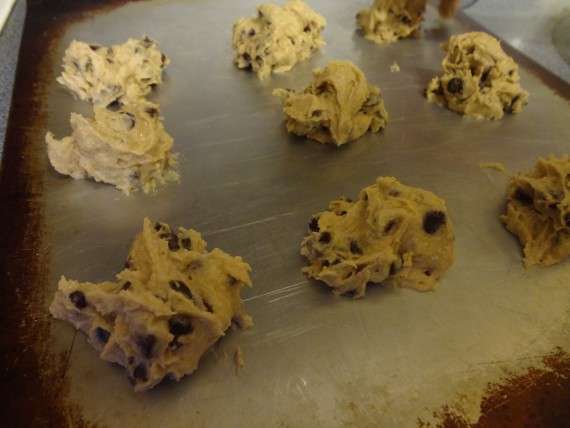 Bake for 9-11 minutes, depending on size. We like to let them sit on the hot cookie sheet for a few minutes before moving them to a cooling rack so they can set up. Mmm… delicious! Enjoy!