This is one of the first recipes I made vegan and LOVED. It's received rave reviews. I also cut down on the amount of fat and sugar. I was into low fat at the time, though I don't think about that much these days and less sugar is always good, I think… Anyhow, I originally found the recipe on allrecipes.com, lowered the fat with applesauce, decreased the amount of sugar, made it vegan and used whole wheat flour.
Serves 12

10 minutes to prepare
11 minutes to cook
Ingredients
1/2 cup vegan margarine
1/2 cup applesauce
2/3 cup white sugar
2/3 cup brown sugar
1 1/2 teaspoons Ener-G egg replacer, mixed with 2 Tblsp water
1 1/4 cups cocoa powder
1 3/4 cups whole wheat pastry flour
2 teaspoons baking soda
1 teaspoon salt
1 bag vegan chocolate chips
Directions
Preheat oven to 350 degrees.
In mixer bowl, blend the butter, brown sugar and white sugar. (No white sugar in the picture oops!)
Next add egg replacer and applesauce.
Mix again.
Add all remaining ingredients, except the chocolate chips and blend again.
The mixture looks very dry for a while… just keep mixing.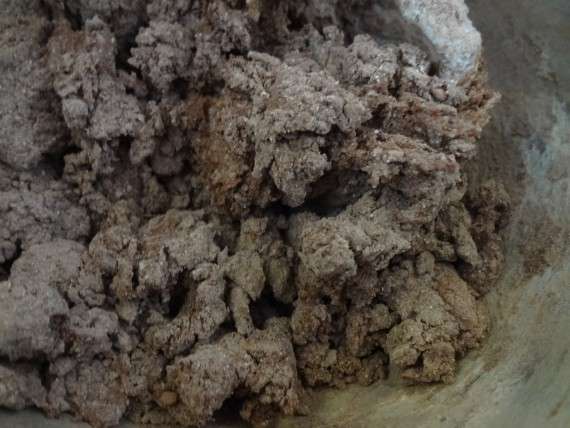 Getting closer but still need to mix some more.
Looking good. Time for a little taste test!
Add the chocolate chips and stir, just until mixed.
This looks perfect!
Mmmmm.. it's getting good! Better taste it once more, just to be sure. Isn't he just the cutest kid ever!
He's going to be a lady killer for sure.. This good looking and he bakes too?
Drop spoonfuls onto a cookie sheet.
I've always thought that cookies are best right out of the oven. We usually only cook as many cookies as we are going to eat. and then we store the rest of the batter in the fridge or freezer
Bake 10-11 minutes, depends a bit on how large you like them. Remove from oven, let sit on cookie sheet for about 5 minutes.
Move to a wire rack to cool.
Enjoy!