It's really easy to make your own pizza dough and it's so cheap… It takes some time to rise but hands on time is short. We always make two versions in our house. One is made with all white flour and the other is half whole wheat pastry flour and half white. The kids prefer the traditional all white crust and the adults like the half and half version. Healthier and more filling. Sometimes I get really crazy and make it with all whole wheat pastry flour but it's definitely more dense and not as soft and pliable. You usually end up having to roll it more than toss it if it's all whole wheat.

This makes one very large pizza pie or two smaller pies. The pictures below are a double batch (two large pies, each mixed separately).
Serves 4

80 minutes to prepare
35 minutes to cook
Ingredients
1 packet active dry yeast
1/2 cup water, warm
4 cups flour, plus more for dusting
1 cup water, cool
1 tablespoon olive oil
2 teaspoons salt
Directions
Add your yeast to your mixing bowl.
Add the warm water.
and half a cup of the flour.
On the left is all white flour. On the right I used whole wheat pastry flour.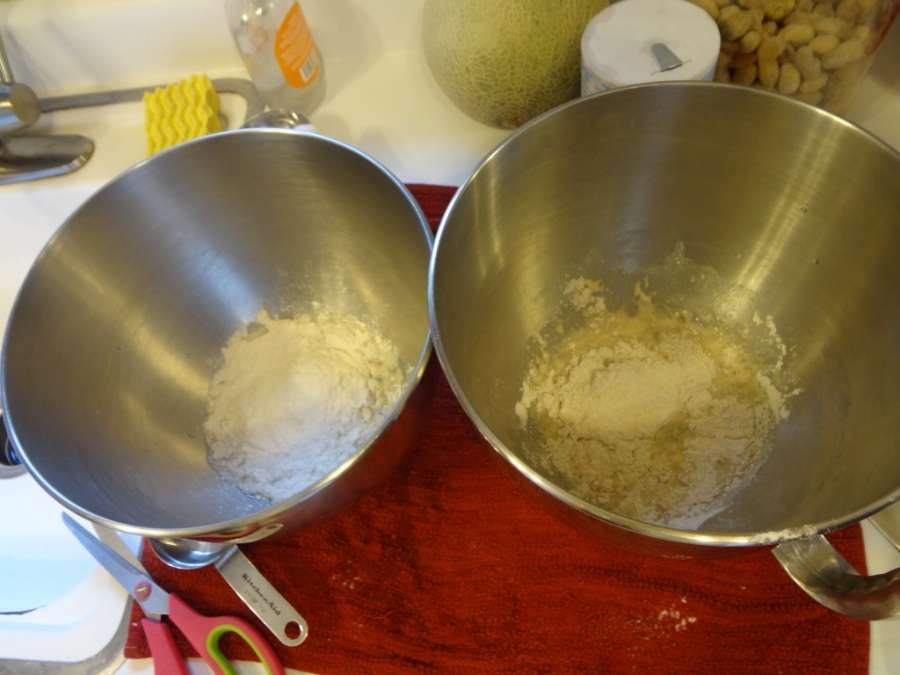 Whisk until the ingredients are combined well.
Dust the top with flour.
Cover the bowl with a dish towel and let the yeast do it's thing for about 20 minutes.
It will look bubbly and crackly to show it's alive and well. (whole wheat version)
And the white version.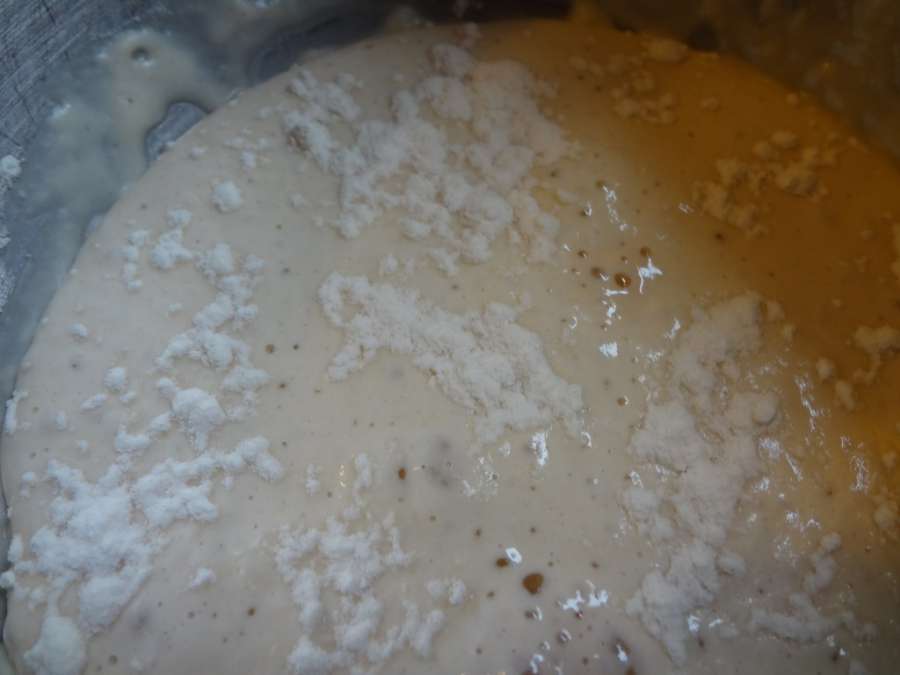 Add your salt.
And the cool water.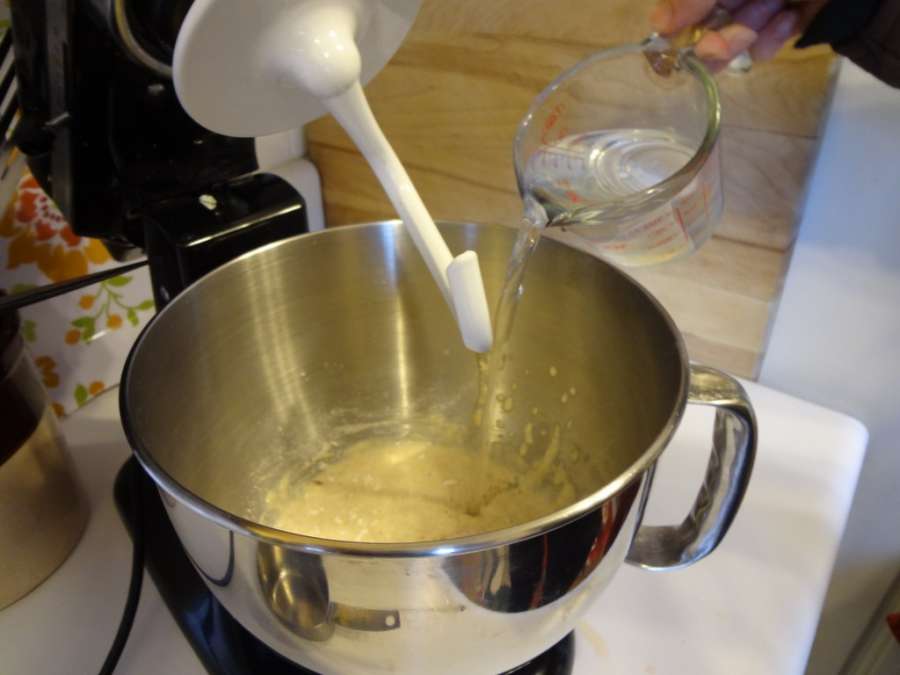 Add 3 cups of flour… 1
2…
3…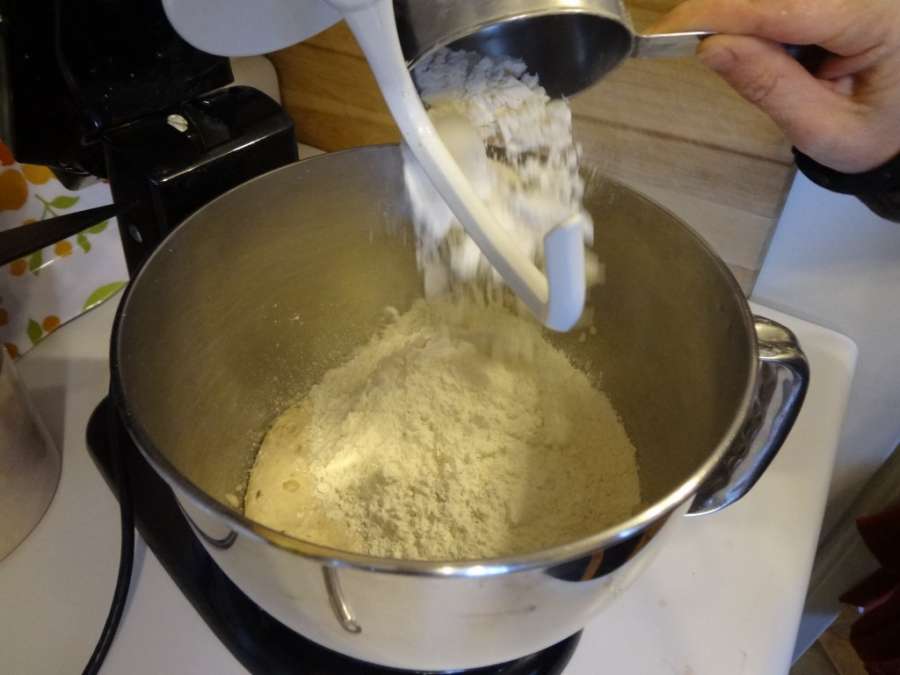 Add your olive oil.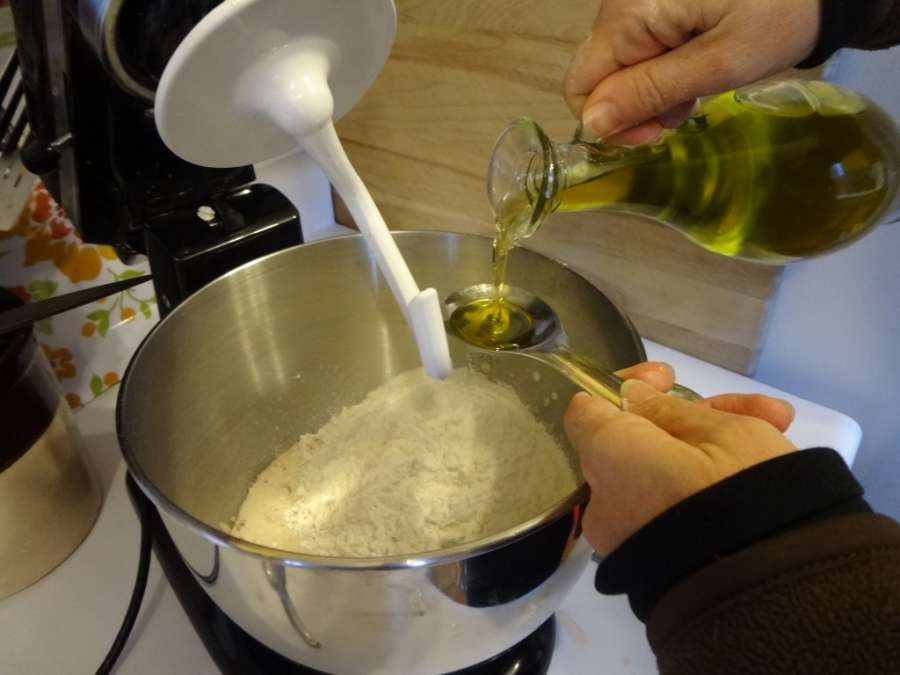 Use your dough hook attachment. Start kneading on low speed…
Keep going…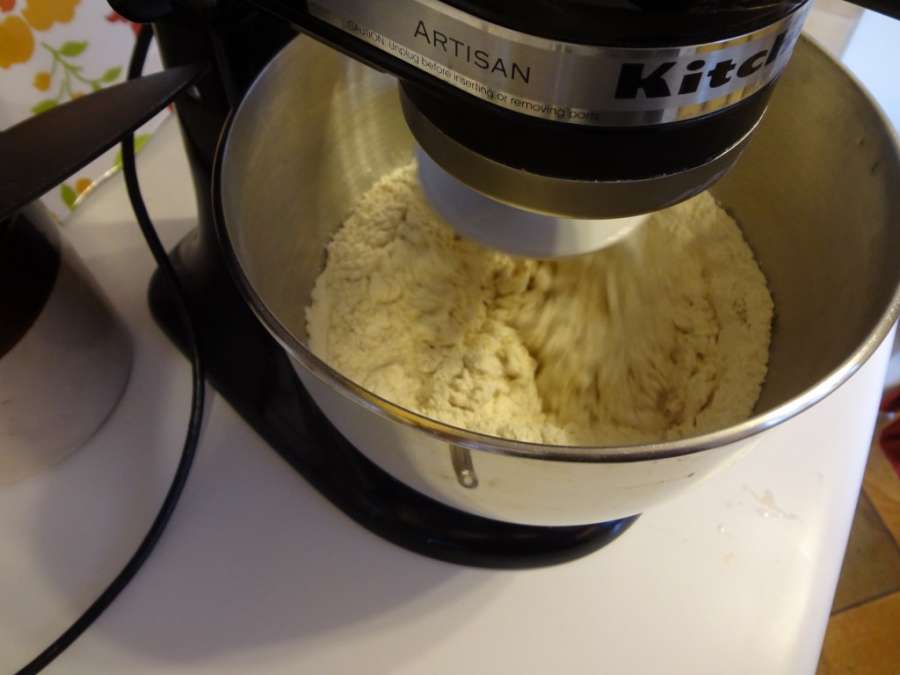 As it's incorporated, you can turn the mixer up to medium.
Add the remaining 1/2 cup of flour as needed to get a nice soft, just slightly moist dough.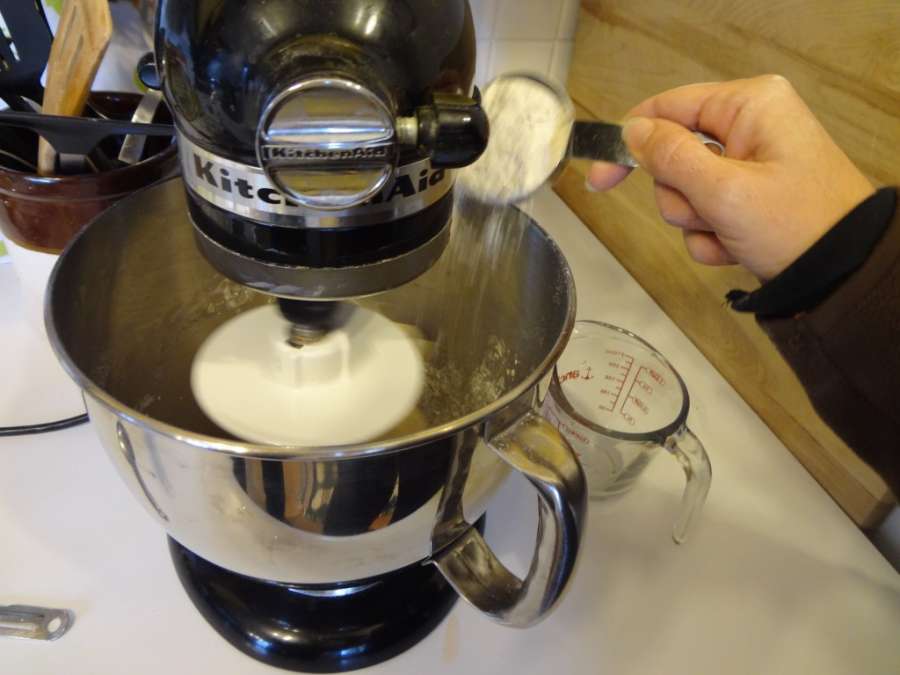 Knead until the dough is smooth and silky and adheres to the dough hook.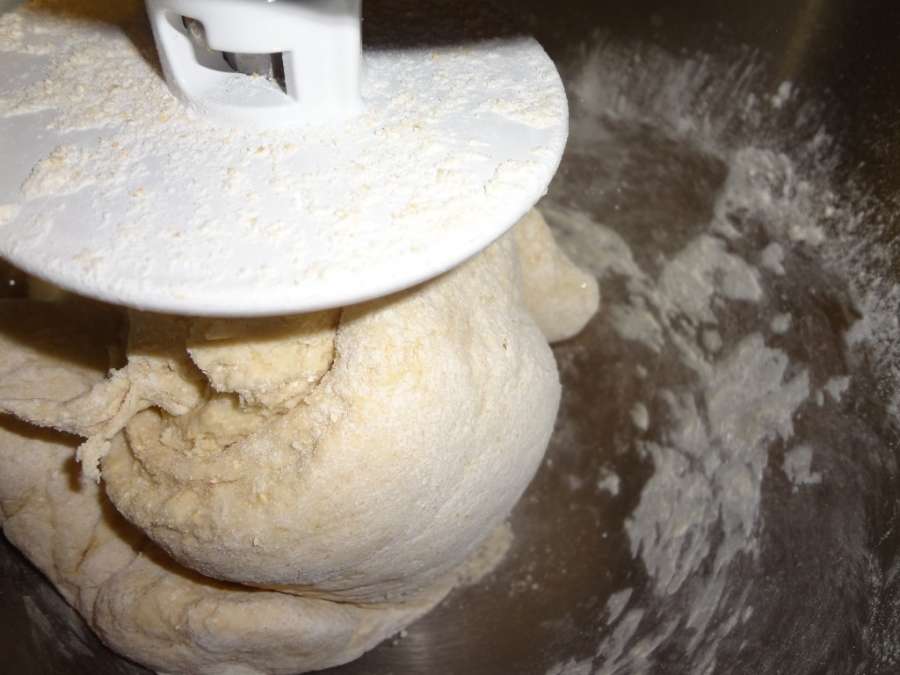 If it's too wet…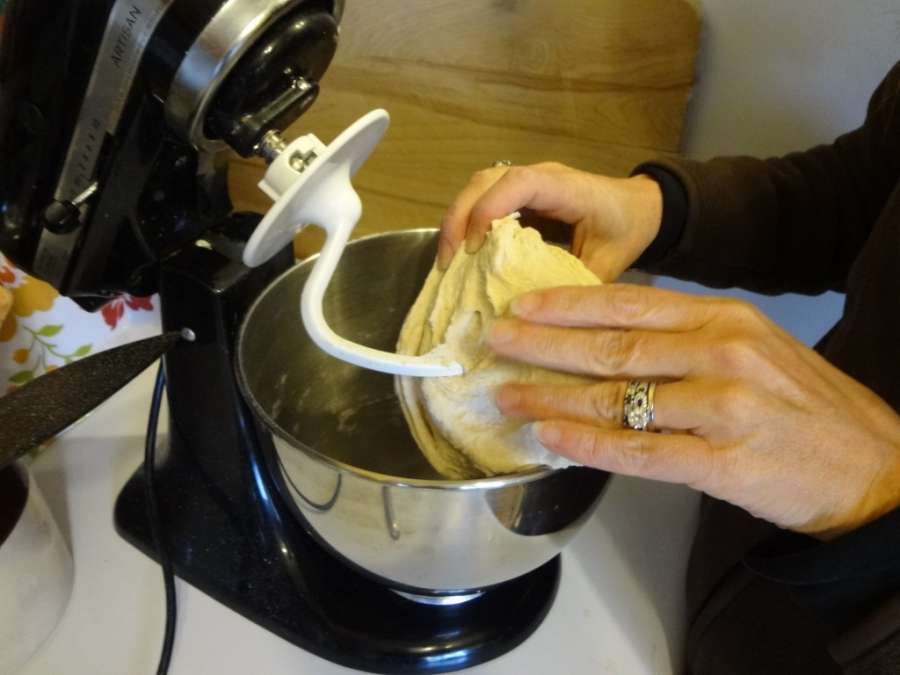 Add a little more flour.
Until it's soft and smooth like a baby's bottom…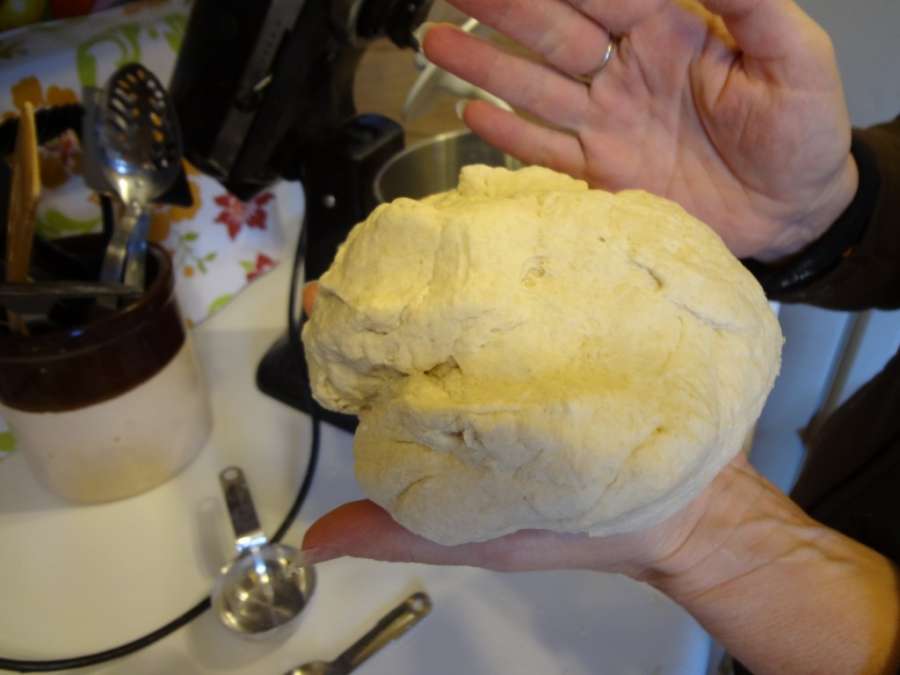 Knead lightly and fold the dough over on itself a few times.
Shape into a ball and dust lightly with flour.
Put it in the bowl…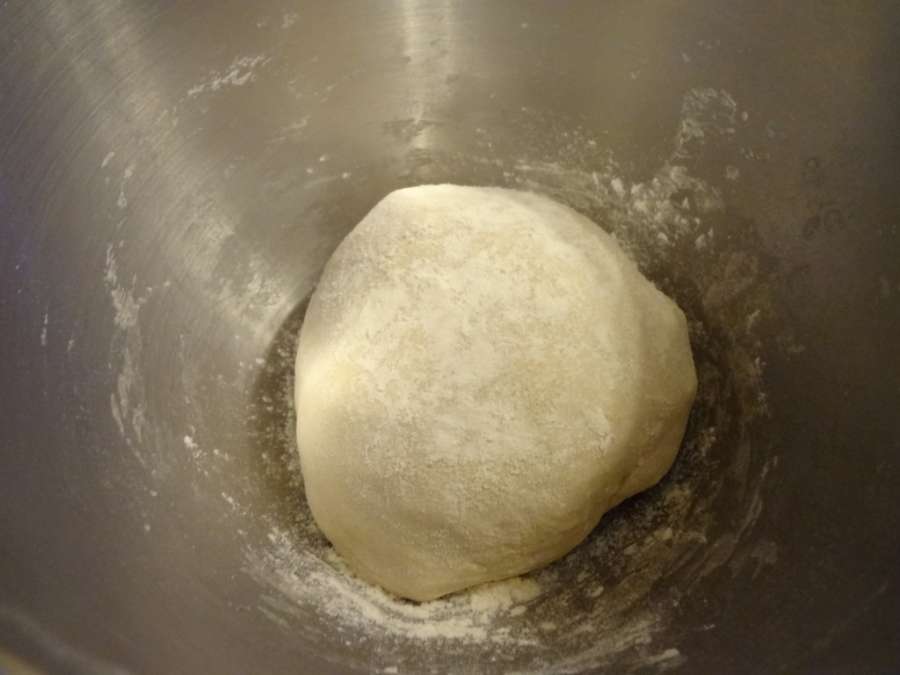 Cover with a towel and let it rise for about an hour. It should double in size.
Punch the dough down.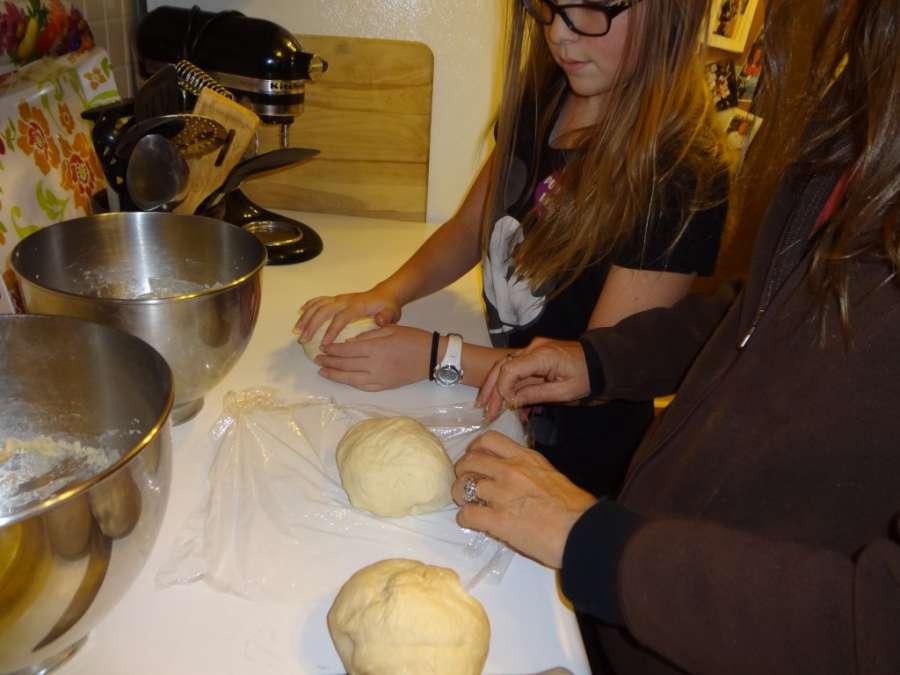 Spread the dough out. If you have a hard time stretching it, let it rest for a few minutes and continue.
When it's time to bake, we like to use a pizza stone sprinkled with corn meal. Preheat the oven (with the stone inside) to 375 degrees.
Tonight we didn't pre-bake the crust. We topped it with everything we wanted except the daiya cheese and baked it for 30 minutes.
Then we added the cheese and baked it another 5 minutes, just until the cheese was melted.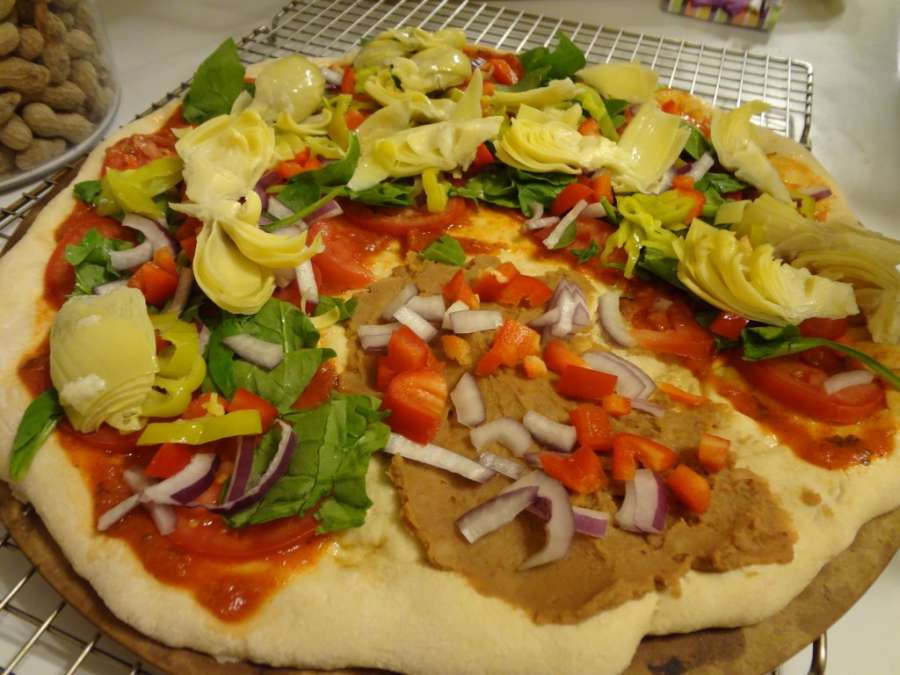 Note: You can wrap it and freeze your pizza dough (for about a month) if you aren't going to use it right away. Defrost and let it rise in a large bowl in the refrigerator when you are ready to use it.