This is another recipe from our family cook book. My mom used to make this and I absolutely loved it as a kid. Stella woke up this morning and wanted to make coffee cake. I decided we should take this old family recipe, make it more healthy and veganize it. I use the same techniques to make baked goods more healthy over and over. I reduce the amount of sugar that is called for, usually by about 1/4 and nobody seems to notice. I substitute natural applesauce or mashed banana for half of the butter or margarine. I prefer applesauce because sometimes you can taste the banana and I never taste the applesauce but banana works well too. I also substitute whole wheat pastry flour for at least some of the white flour. In my mind, reducing sugar and margarine is always a good thing. When you use whole wheat flour, not only is it more healthy, it's more satisfying. You feel full eating less. This is because there are no nutrients in white flour so when you eat it, your body doesn't get anything from it. Calories with no nutrition makes it so your body still keeps asking for food because it wants nutrition. I'm going to write more about this in another post but for now, we'll move on to the recipe.
Serves 12

20 minutes to prepare
45 minutes to cook
Ingredients
For the cake:
3/4 cup sugar
4 tablespoons vegan margarine
4 tablespoons applesauce, or mashed banana
3 teaspoons Ener-G egg replacer, mixed with 4 Tblsp water
1 teaspoon vanilla extract
1 1/2 cups flour
1 1/2 teaspoons baking powder
1 teaspoon baking soda
1/2 teaspoon salt
1 cup vegan sour cream
Filling:
1/4 cup sugar
1 teaspoon cinnamon
Directions
This recipe calls for sour cream so we made vegan sour cream using the recipe in the Forks Over Knives Cookbook. I really like this cookbook and we'll review it once we've had a chance to make more of the recipes.
Preheat oven to 350 degrees.
Cream together the sugar, butter and applesauce or mashed banana. When we made this, we ran out of applesauce so we used 2 T applesauce and 2 T mashed banana.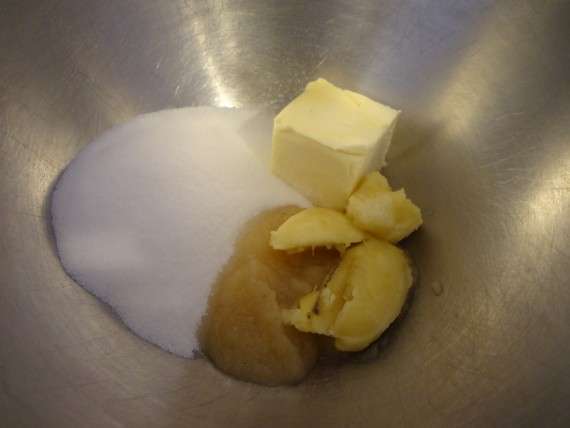 Add the egg replacer (mixed with water).
Combine the flour, baking powder, baking soda and salt in a small bowl.
Add half the dry ingredients and half the sour cream and mix.
Add the rest of the dry ingredients and the rest of the sour cream and mix again.
Combine your cinnamon and sugar for the filling.
Prepare your bundt pan. I sprayed it with cooking spray.
Pour half the batter in the pan.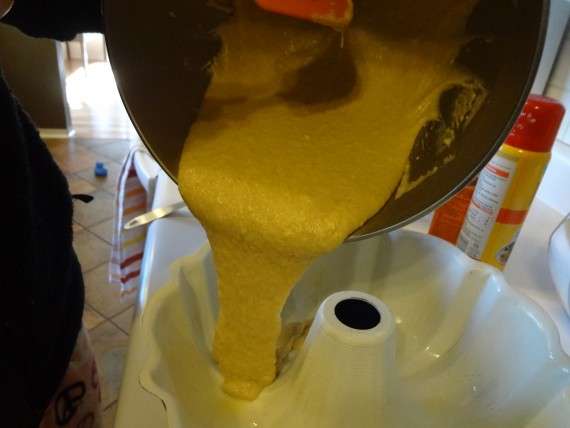 Sprinkle the filling all over the batter.
Looking good…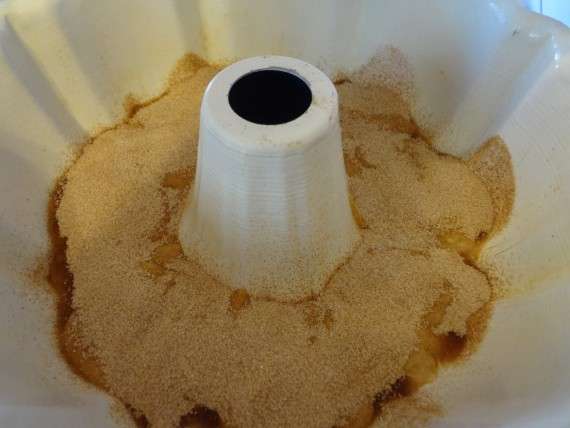 Pour the rest of the batter on top.
It's ready to bake! Bake for 45 minutes.
Jeff and I decided to head out for a quick run while it was baking. Cooper was still sleeping and so I left him a note to motivate him to drink his awesome green juice. :)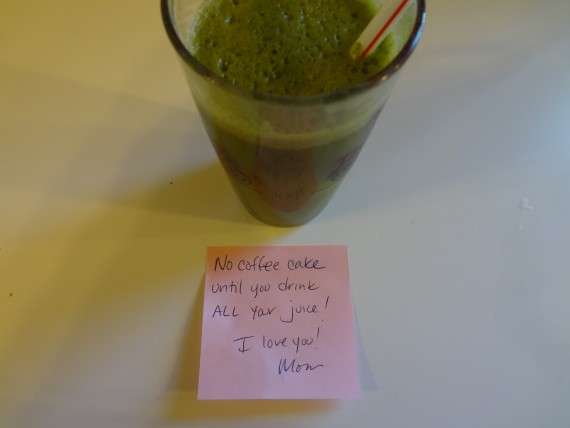 It's baked! When we pulled it from the oven, I immediately ran a knife around the edge to separate the sticky filling from the side of the pan. Then we let it cool for about 10 minutes.
It popped right out! A nice treat for a weekend breakfast. Enjoy!