We came up with this vegan version of traditional stuffing or dressing. It rounded out our Christmas Feast really well. Quick and easy to make.
Serves 8

15 minutes to prepare
25 minutes to cook
Ingredients
10 slices whole wheat sandwich bread, cubed
3 celery ribs, small chopped and sauteed until soft
1/2 red onion, small, chopped and sauteed until soft
1/3 cup fire roasted green chilies
2 cups vegetable broth, plus more to reach desired moistness
3 tablespoons vegan margarine
Directions
Preheat oven to 375 degrees. Saute your chopped celery and onions.
Heat your vegetable broth over medium heat with 2 pats of vegan margarine.
Combine all bread crumbs, celery, onions and green chilies in a large bowl.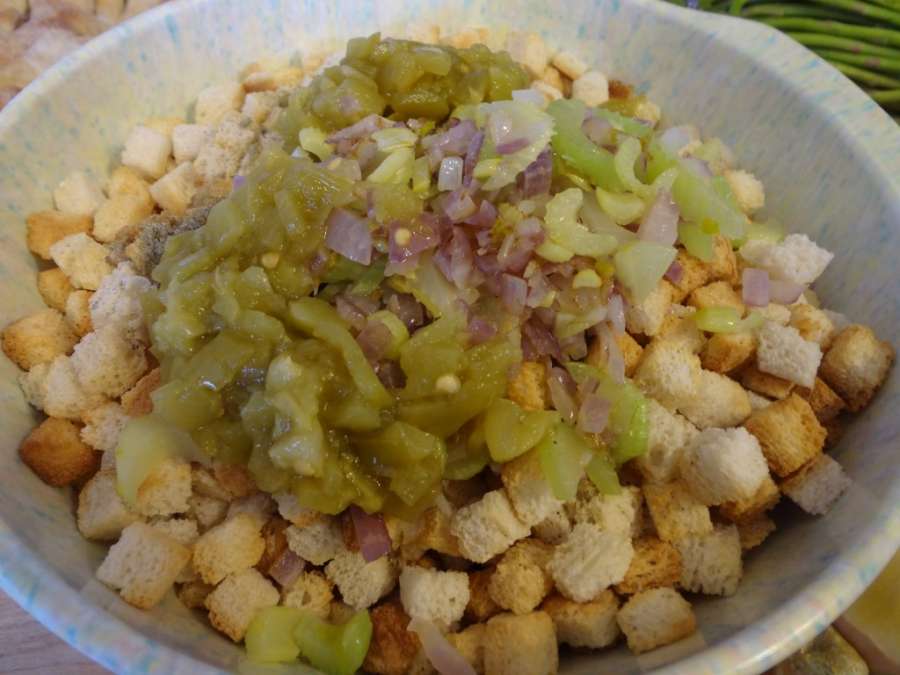 Add your heated vegetable broth.
Stir gently to coat evenly. Add more vegetable broth if it's too dry. You don't need to heat it up.
Place small pats of the remaining vegan margarine around. Put in the oven and heat for 20-25 minutes until the top is dried and slightly brown.
MMM… good!