It has been my quest to come up with a killer burger recipe since getting serious about going plant-based and whole. Burger cooking used to be one of my "things". This vegan burger is the most "meat-like" and tasty for sure.
Serves 9

15 minutes to prepare
40 minutes to cook
Ingredients
2 cans black beans, rinsed and drained
1/2 cup walnut
1 1/3 cups quinoa, cooked
1 1/3 cups old fashioned oats, (not quick) oat
1/2 cup smoked sun dried tomatoes
2 tablespoons liquid smoke
1 tablespoon hot sauce, like Tabasco
1 tablespoon cumin
1 teaspoon black pepper
1/2 teaspoon salt
9 whole wheat buns
Directions
Rinse and drain the beans. It's important to drain them
really well
because too much moisture will make your burger mushy on the inside.
Cook up some quinoa. 2 parts liquid, 1 part quinoa. Soak the quinoa first for 5 minutes.
We use half water and half vegetable broth for the liquid.
Bring quinoa and liquid to a boil uncovered, then turn the burner down to low and let it simmer for about 20 minutes. Turn the burner off and let it sit to soak up any remaining liquid. Make up a lot – this stuff is great to keep on hand for salads, sides and as an ingredient in other recipes.
Food process all the ingredients (except the quinoa) in a food processor but not so much to lose all recognition of a bean or walnut. Over processing will also lead to a mushy burger. Then, fold in the quinoa.
Hand mash and form into patties.
Pan fry in non-stick pan or griddle over medium heat. You don't need to use any oil or spray.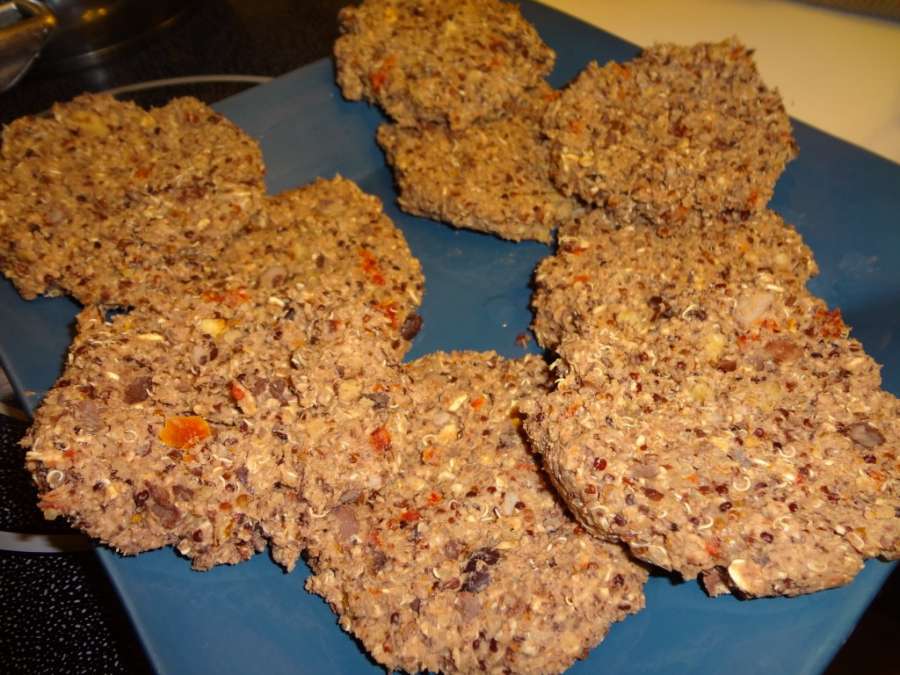 Cook for about 10 minutes each side until browned. Cooking longer at a lower temperature gives this an awesome, meaty consistency and texture.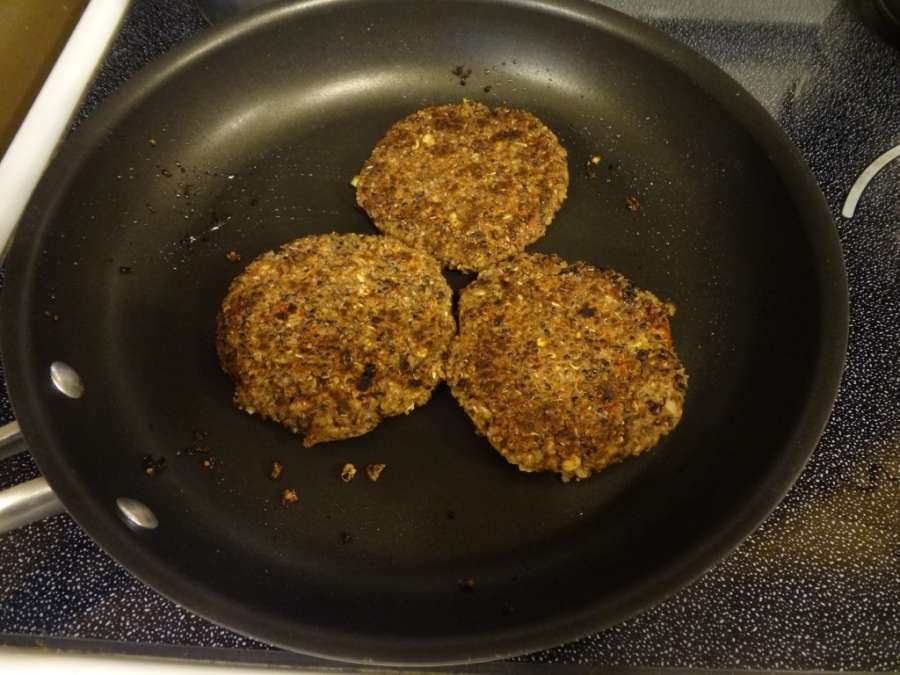 Top with your favorite burger goodies. Serve with chips and guac, zucchini crisps, or homemade fries.
Take a bite…you'll hear yourself say, "Mmm, burger."