Okay, so how do you create vegan version of a dish where cheese is the main ingredient? Never fear, we'll explain below. This is so rich and flavorful and does a lot to take me back to those "mmmm, cheeeeeeese" moments from my earlier life. We like it even better than the traditional version with all kinds of cow juice in it. It's creamier and stays moist. Delicious!
This is a BIG batch. About 25-28 filled manicotti. You can always cut the recipe in half but we like leftovers or freezing some for a quick meal later.
Serves 12

30 minutes to prepare
35 minutes to cook
Ingredients
Garlic Cashew Cheeze
1 cup raw cashews, presoaked in water, drained
2 cloves garlic
1 tbsp lemon juice
1/2 tsp salt
1/2 teaspoon black pepper
Vegan Ricotta Cheeze
16 ozs vegan mozzarella
18 ozs firm tofu, mashed
1 cup breadcrumbs, Italian style
1 tbsp garlic powder
3 green onions, chopped
1/3 cup parsley, chopped
1/2 tsp black pepper
For the Manicotti
2 boxes manicotti noodles
4 cups marinara sauce
1 can Hunts diced roasted garlic tomat, (15 oz can)
Directions
Preheat oven to 350 degrees. Get your large pot of water on to boil for your noodles.
Make your garlic cashew cheese by soaking your cashews for about 15 minutes, adding remaining ingredients and processing until smooth.
Make your vegan ricotta cheeze by adding your ricotta ingredients to your garlic cashew cheeze. Mix (your hands work well) until it starts to stick together.
Cook noodles according to package instructions.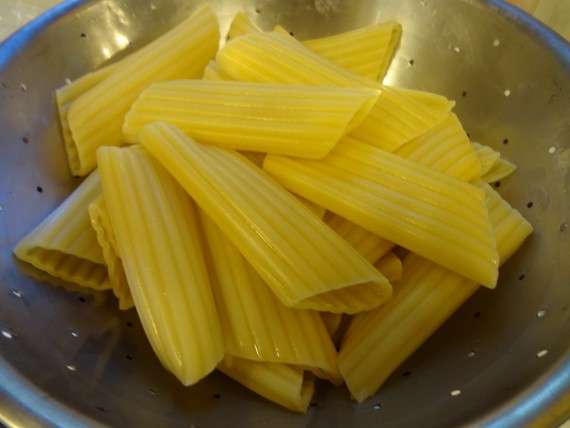 Blend the can of tomatoes in your blender or food processor.
Cover the bottom of your baking dish with the blended tomatoes.
Transfer your ricotta filling to a large storage bag. Cut off one corner to use the bag like a pastry filler.
Squeeze the ricotta filling into each tube. Sometimes it's helpful to work from both sides.
Place each filled tube in your prepared dish until all the tubes are filled or you run out of filling.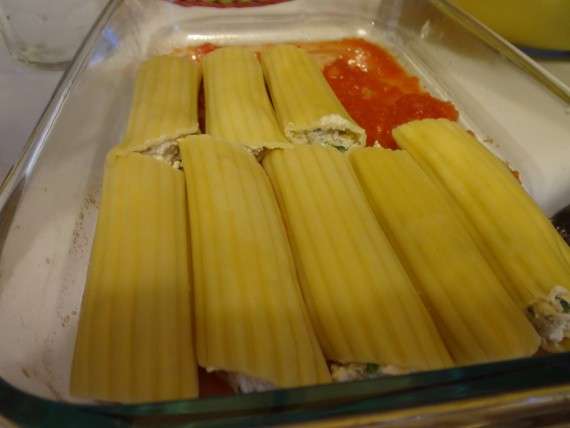 Spoon marinara sauce over the top. Spread it out evenly.
Cover your pan with tinfoil. Bake in a 350 degree oven for 30 minutes. Remove foil for last 5 minutes or so.
Serve with a nice green salad and maybe some french bread!