Sometimes you just want something gooey and delicious and this ricotta cheese filling fits the bill. This is the closest we've come to that "this is cheese" sensation in our mouths. And better yet, the kids will eat it!

This is a large batch, about 7 cups which is enough for two boxes of manicotti. Fills about 25-28 manicotti noodles. Because manicotti and lasagna and other types of dishes we would use this in are fairly labor intensive, we like to make the effort worthwhile and create large batches. We love leftovers or freezing the other half for a quick meal later on. You could also freeze the ricotta filling on it's own but it might change the consistency a bit. We haven't tried that yet but we'll let you know how it turns out if we do. Of course you can always cut this recipe in half as well.
Serves 14

20 minutes to prepare
Ingredients
Garlic Cashew Cheeze
1 cup raw cashews, presoaked in water, drained
2 cloves garlic
1 tablespoon lemon juice
1/2 teaspoon salt
1/2 teaspoon black pepper
Vegan Ricotta Cheeze
16 ounces vegan mozzarella
1 pound firm tofu, mashed, we use about 1 1/2 12 oz packages
1 cup breadcrumbs, Italian style
1 tablespoon garlic powder
3 green onions, chopped
1/3 cup parsley, fresh, chopped
1/2 teaspoon black pepper
Directions
Soak raw cashews for at least 15 minutes and then drain. Put all the remaining ingredients for the Garlic Cashew Cheeze in a food processor or blender.
Add a little bit of water as needed for consistency and scrap down the sides. I usually use about 3 Tbsp of water.
Put your tofu in a large bowl and mash it with a fork.
Add all the remaining ingredients for Vegan Ricotta Cheeze to the bowl.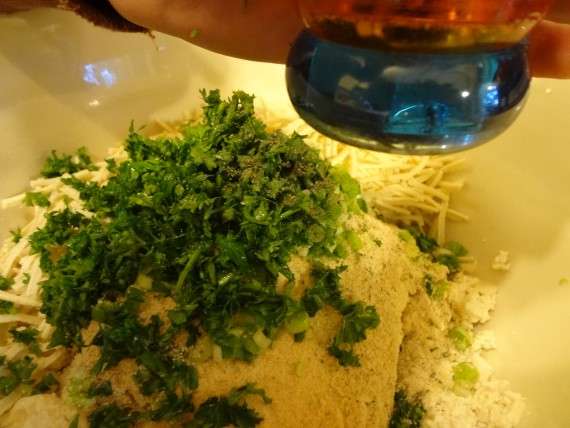 Start by mixing it all together with a fork until it's well blended.
Then mash it together with your hands, like you would a meatloaf. It should start to stick together.
Next add your garlic cashew cheese.
Mix it all together.
Last night we used this filling in manicotti. See recommendations on the right for the recipe!