There's this idea that vegans only eat "rabbit food". But I can tell you, if you think things like loaded nachos are out of reach, you can think again. Amounts will vary depending on how many people are eating and your personal tastes. The beauty of something like nachos is – they're easy – don't overcomplicate it. Below are some amounts to get your started.
Serves 6

10 minutes to prepare
15 minutes to cook
Ingredients
1 can black refried beans
1 can black beans
1/4 cup Beyond Meat Beef Free Feisty Crumbles
1/2 red onion
1 red bell pepper
1/2 cup fire roasted green chilies
1/4 cup nacho jalapeno slices
1/2 cup vegan pepperjack style shreds
1 tomato
1 cup romaine lettuce, shredded
1 avocado
1 lime, juiced
3 cups corn tortilla chips
1/4 cup vegan sour cream
1/2 cup salsa
Directions
Preheat oven to 350. Saute chopped onions and red peppers.
Chop lettuce and tomatoes.
Make up some fresh guacamole using the avocado, some of the tomato and fresh squeezed lime juice.
Assemble your other ingredients.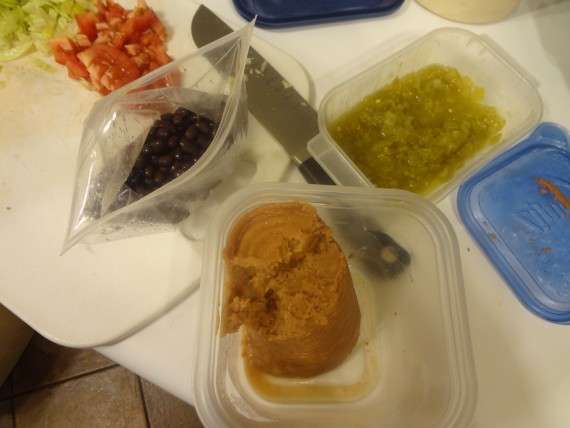 Grab a couple of cookie sheets (or just one depending on how big a batch you are making) and shoot them with some cooking spray. Line each with your favorite corn chips.
Layer on beans.
Add fiesta crumbles, (we had a leftover homemade burger we used this time) onions and peppers.
Add green chilies.
Add daiya shreds.
Pop them in the oven for 10-12 minutes (until the daiya is melted and beans are hot).
Prep any other "cool" toppings you'll want to load on.
Assemble the hot nachos on a plate and pile high with your other toppings. Talk about comfort food.