I originally made these for breakfast, but there's no reason on earth they couldn't be lunch or dinner. They're good eats no matter what time of day or night!
Serves 2

10 minutes to prepare
10 minutes to cook
Ingredients
2 whole wheat flour tortillas
1/2 can vegetarian refried beans
1/4 red bell pepper, sliced thin
1/2 cup corn
1/4 cup fire roasted green chilies, chopped
1/4 cup spinach
1/4 cup vegan pepperjack style shreds
1/4 cup vegan sour cream
Directions
Thinly slice your red bell pepper and chop your green chilies if they're not already. On half of one side of the tortilla, spread a layer of re-fried beans. Add single layers of bell pepper, corn, green chilies, pepperjack shreds and top with spinach. Fold in half and pan heat over med-high until the beans are heated through and the tortilla starts to brown.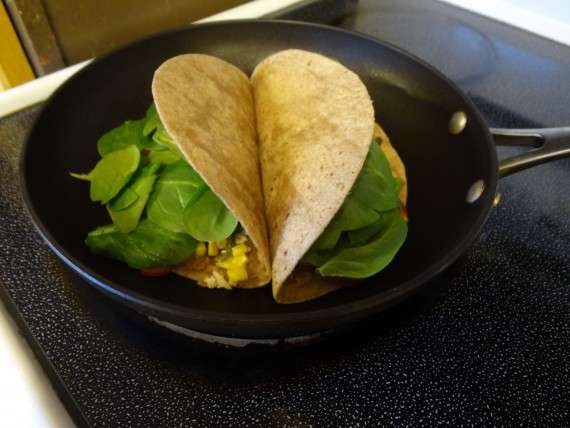 Then, flip to let the other side brown.
Carefully remove from heat, pry open and add a layer of sour cream.
Serve with chips and guacamole or your favorite salsa. Makes me hungry just looking at it!