It's a family tradition to bake and decorate sugar cookies for Christmas. This is a very old recipe that we veganized easily by substituting vegan butter for the butter and egg replacer for the eggs.
See the frosting recipe here.
Serves 12

15 minutes to prepare
10 minutes to cook
Ingredients
2/3 cup vegetable shortening
2/3 cup vegan margarine
1 1/2 cups sugar
3 1/2 cups flour, more for dusting the roller
2 teaspoons baking powder
1 teaspoon salt
3 teaspoons Ener-G egg replacer, mixed with 4 Tblsp water
2 teaspoons vanilla extract
Directions
There is soy milk in the picture of ingredients but you don't need that until you make the frosting! Oops! So sorry…
Preheat oven to 375 degrees. Place sugar, vegan margarine and shortening in mixer and blend until creamy.
Add the vanilla
and egg replacer pre-mixed with water (according to package directions) and blend.
Add salt and…
flour and baking powder and blend again.
It looks VERY dry for a while but don't worry, just keep going…
It's getting close now…
This is what it looks like when it's ready.
Pretty girl LOVES to bake….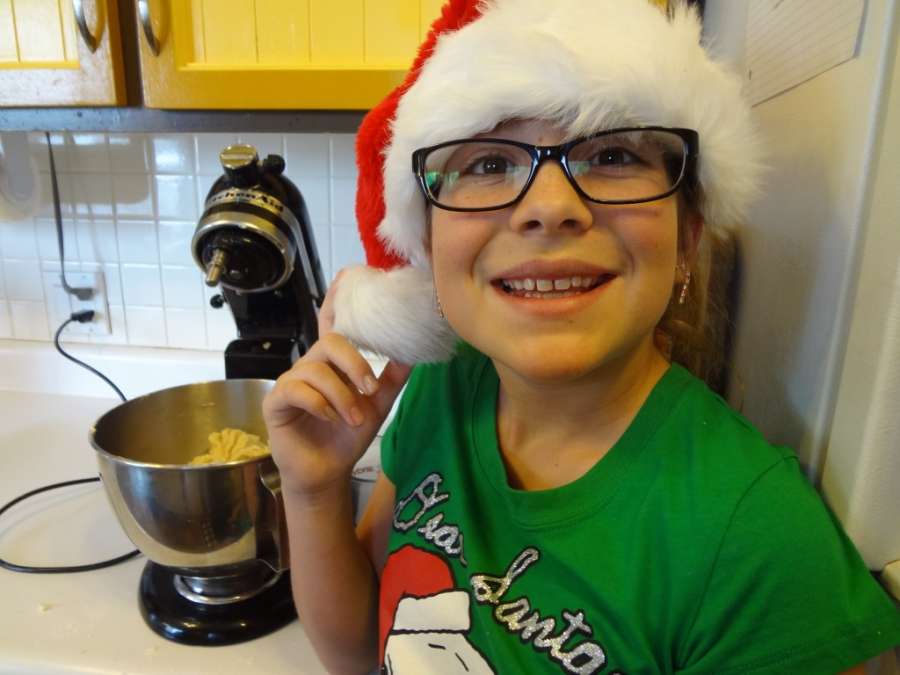 Divide dough into four separate balls and work with that much at a time. Flatten the ball…
Dust the surface and rolling pin with flour and roll to about 1/4 inch.
Cut out your shapes!
Take your scraps and repeat until you've used up all the dough. At least all the dough you want to make into cookies! You can eat the rest… no threat of salmonella in these babies….
Place all your cut out cookies on a cookie sheet sprayed with cooking spray.
Bake for about 10 minutes, this really depends on how thick they are… so watch the first batch carefully…
Move to a wire rack to cool.