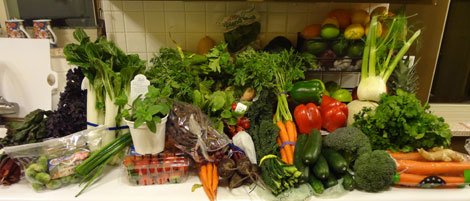 Well, I'm not exactly sure what happened.  Perhaps it was the number of things we were trying to cleanse from our systems and habitual natures.  Perhaps we didn't choose the right combinations of fruits and veggies to juice.  Perhaps we shouldn't have run 7 miles on the first day of the fast.  Whatever the reason, we ended up eating again on Sunday night.  And it was GOOD.
At first, I was kind of hard on myself about it, but then I thought, "What was this for you?"  The answer?  An experiment.  A reset.  A press pause.  I wanted to break from my habits and by route behaviors.  I wanted to get some really good nutrients down in me.  I wanted to give myself an excuse to make different choices.  In all these ways, the fast was a success.  Did we make it 7 days?  Nope.  3 days?  Nope.  But who cares?  We're enjoying the juice we're drinking now.  And…the kids are drinking juice with us now daily.  It feels great knowing they and we are getting all kinds of great green power.
We've got some friends who are juicing right now, too.  They are having a better time of it and have set their goals on 7 days as well.  It's been fun to discuss the journey with them.  What works.  What doesn't.  What's hard to give up.  What isn't.  They decided to not give up their morning coffee, for instance.  Good for them!  It's all about making it your own.  All of this.  How do you feel?  Are you listening to your body?  Are you being intentional or are you just following suit, doing like all the others in the herd?
I'm glad we tried the fast.  I think I'll try it again, but I will plan for it better in advance.  And maybe next time I won't have so many bad habits to set aside in the first place.
Here's to experimenting with your life, your food, your thoughts, and your measure of worth.