Vegan Cooking for Carnivores: Over 125 Recipes So Tasty You Won't Miss the Meat by Roberto Martin
We love Ellen DeGeneres and when I heard her personal chef had written a book, I wanted to read it. I know not all vegans agree with me and knock her because she still works with Revlon and she's said she eats some of her neighbors eggs and things like that but instead of focusing on what she isn't doing, I like to focus on what she is doing.
She's on TV every day and she promotes her vegan diet and talks about what it's done for her. She's someone who so many people can relate to. She's a happy vegan and it comes through. Whether she's perfect or not doesn't matter to me. The fact that she is spreading the word about all the benefits of eating more whole, plant based food is fantastic.
So on to the book… One of the most brilliant aspects of this book is that Roberto tries to teach you how to veganize any recipe. When he first got the job as Ellen and Portia's chef, he wasn't vegan and it doesn't sound like he had cooked much vegan food. Instead of making vegan food, he makes food vegan. He takes almost any dish and figures out a way to make it vegan. He talks about substituting different proteins, liquids and fats so you can learn to take almost any recipe and make it vegan
Ellen and Portia have presented him with various challenges like making fried chicken and caviar and making them vegan. I think he's brilliant.
Roberto covers all the bases, breakfast, lunch, dinners, desserts, salads, lots of amazing sauces and dressings and condiments, soups, snacks and homemade pasta!  There are several recipes with processed meats in the book but I think that is part of the process of moving to a new way of eating. It can be very simple. There are plenty of recipes that don't have processed foods in them.
We immediately made his mac and cheese which was really delicious. We also made his Blackening Spice which is awesome as a pumped up alternative to salt and pepper. Stella loves Ceasar Dressing and his recipe is her favorite so far.
There is something for everyone in this book. If you are looking for instruction on how to veganize any recipe or just some new recipes to add to your meal rotations, this one is definitely worth picking up.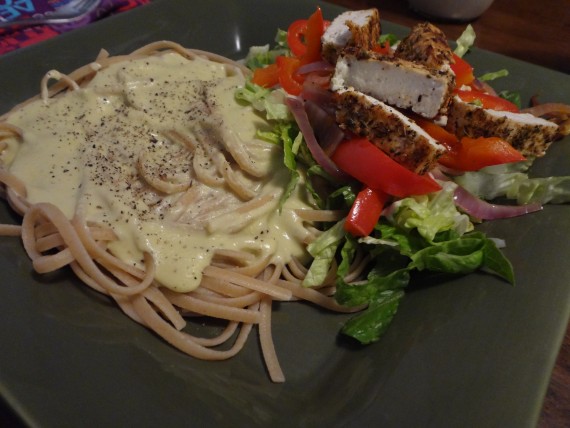 This is a picture of the Blackened Tofu Ceasar Salad we made. We served as a side to our Alfredo Pasta.  Mmm… delicious!
What Amazon says:
Ellen DeGeneres' personal chef, Roberto Martin, shares over 125 delicious vegan recipes he's created for Ellen DeGeneres and Portia de Rossi that he hopes will make healthy vegan cooking accessible and easy for everyone. Portia de Rossi explains in her foreword, "Roberto taught me that the key to making good food vegan is substitution…you can enjoy all your favorite foods and never feel deprived."
Some of the standouts Martin, a Culinary Institute of America-trained chef, has developed for Ellen and Portia include: Banana and Oatmeal Pancakes, Avocado Reuben, Red Beans and Rice, "Chick'n" Pot Pie, and Chocolate Cheesecake. Featuring mouthwatering photographs by award-winning food photographer, Quentin Bacon, this cookbook will appeal to die-hard carnivores and vegetarians alike.